Jun 6, 2022 Business Administration Student
Gies virtual immersions explore culture, global issues
Anna Korkor Amegatcher, a venture development consultant from Ghana, had researched full-time, residential MBA programs in the US and had reluctantly accepted the fact that she couldn't afford them. By chance, she saw a promotion last summer for a two-week virtual global immersion in Ghana with Gies College of Business. It ultimately led her to apply and be accepted into the iMBA program.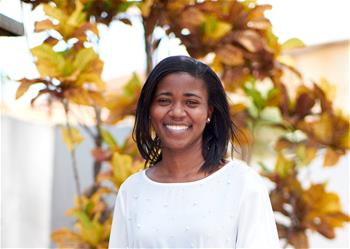 "Gies hadn't been on my radar. I was curious, yet hesitant about an online MBA, and decided participating in this short, intense experience would give me a good sense of the type of students, faculty, courses, and learning environment Gies offers," said Amegatcher (right), who had earned her bachelor's degree in management information systems at Ashesi University in 2014 and learned about the program from their career services office.
Gies virtual immersions are offered to all iMBA, iMSM and iMSA students. The College has partnered with local universities to introduce global business cultures and opportunities in Ghana, Colombia and Japan. Over the course of two jam-packed weeks, Gies and local students work hand-in-hand and are introduced to the sights, sounds, and people of the region. The experience includes a case competition, networking opportunities, and learning sessions through a series of company talks, industry panel discussions, and local professor lectures. In Ghana, Gies partnered with Ashesi University, which organized a case competition that featured GE Gas Power.
"Virtual global immersions are an important way Gies seeks to expand access to world-class business education and expand the cultural intelligence of our students," said Gail Conger Wheeler, course instructor and associate director of the College's Magelli Office of Experiential Learning. "In Ghana, we even enjoyed simultaneously cooking jollof rice in our own kitchens, and on another evening took a real-time virtual tour of Accra, Ghana's bustling capital city."
Amegatcher said the virtual immersion's pace and breadth of experiences exceeded her expectations. Ghana is one of the fastest growing economies in Africa, and this capstone program immersed 40 students in the country's culture, policies, business trends, and challenges.
"Within two weeks our team from different parts of the world and different professional backgrounds had come up with solutions that would expand gas turbine use in sub-Saharan Africa, positioning it as an eco-friendly alternative to coal," said Amegatcher.
"The case competition problem statement was a challenging one. We get paid to solve it and there isn't one simple solution," said Sarah-Michelle Mills, GE Gas Power's EMEA continuous Improvement program manager. "It was great to see the efforts the students put into coming up with alternative approaches to the problem and in such a short time frame, too."
Amegatcher and her team recommended exploring the use of ammonia as an affordable and carbon-free fuel for GGP's turbines and changing their positioning to focus on benefits of clean energy to Africa. They were among the two winning presentations.
"As an African American, I am keen to reconnect and learn about African cultures and business practices," said iMBA student Montrell Person. "One of my iMBA teammates had also grown up experiencing energy insecurity. Hearing her stories about doing homework by candlelight in India made me realize my energy privilege growing up in the US. I never thought that I would have the opportunity to work on such an important case that touches the lives of so many people."
Added fellow iMBA participant Bryan Fulton, "This was a wonderfully immersive course that built teamwork and cross-cultural links. To work on this case was a significant source of joy, and the knowledge that our recommendations could be used to not only solve a real business problem, but also to help the people of sub-Saharan Africa, deepened the stakes of the course and made completion feel much weightier."
"This course drives home the fact that you can't just throw an American concept at a different country and expect it to be successful," said Wheeler.
iMBA student Kay Gomes Saul said the virtual immersion program helped her hone her leadership skills.
"I've learned how to communicate better, how to reinforce my points, the importance of validating others in showing respect for them, and the importance of always doing what I say I will do. This has been a fantastic experience, fueled by stress, curiosity, and deep fulfillment," she said.
For Amegatcher, the virtual immersion was the next step in learning the business skills that will make her an effective leader for social good in Africa. She currently partners with local businesses to develop growth strategies for small and growing businesses in Africa.
"I'm already using some of the strategies I've learned in Professors Michael Bednar and Geoffrey Love's course on managing organizations and how to use statistics to make a business case from Professor Fataneh Taghaboni-Dutta," she said. "My Gies education has been invaluable to my work helping small businesses strategize and sustain their businesses, manage competition, and motivate employees. With my degree, my goal is to impact entrepreneurs leading large scale businesses in Africa and beyond. "
"Our students have the opportunity to solve today's problems, whether it's energy security in Ghana or unbanked consumers in Colombia," said Wheeler. "It also gives them the ability to easily build relationships globally as many of our learners are or will be working for international firms."