Bringing together business and engineering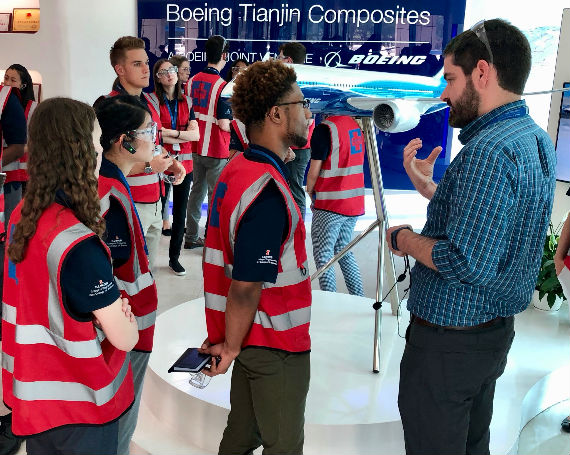 Students apply to the T&M Program over winter break preceding their junior year. Admission to the program is competitive. The program traditionally admits roughly equal numbers of engineering and business majors.
Successful applicants are characterized by the following attributes:
The ability to successfully take on the additional coursework required to earn the T&M minor
Knowledge about the T&M Program and its demands
Demonstration of a high level of commitment to the program
For business majors, demonstration of a sincere interest in engineering/technology
For engineering majors, demonstration of a sincere interest in business
The ability to work effectively with other students
Excellent interpersonal skills
Application Process
Students who are eligible to apply must have one of the following majors:

College of ACES: Agricultural and Biological engineering
The Grainger College of Engineering: All majors
College of LAS: Chemical Engineering
Gies College of Business: All majors

Applications for admission to the T&M Program are accepted during winter break preceding the student's junior year. Students who are admitted begin the program in the fall of their junior year.

Transfer students: Students transferring between universities, colleges, or majors may apply, but their admission into the program will be contingent upon being accepted into the university/college/major.
Application Schedule
November-early December: Information sessions for interested students
December-January (winter break): Students complete and submit application
February: Students receive invitations to interview with current T&M students, faculty members, and the program director
March-early April: Admission decisions emailed to applicants; orientation events
Frequently Asked Questions
Applying to and participating in the T&M Program is an exciting opportunity and experience! Previous applicants have asked us these questions concerning the program:
How are students selected for the program?
Students are selected through an application process. Students have the opportunity to apply over winter break preceding their junior year. The application is a series of essay questions which assess an applicant's background, interests, academic qualifications, extracurricular activities, and personal/professional goals.
How much additional work does the program involve?
The T&M curriculum requires 22 credit hours for completion. The courses in the program are not more or less difficult than required junior and senior courses in engineering and business majors. The capstone project accounts for 4 credits and typically requires diligent application of time and effort in the fourth semester of the program.
Can I get elective credit for any of the T&M courses I take?
This depends upon the specific policies and guidelines of individual departments. Your academic advisor will be able to provide you this information.
Will participation in the program delay my graduation?
You must fit 22 credit hours into the curriculum of your major(s). Depending upon how many elective credits you receive for T&M courses and how many advanced placement credits you had when you enrolled at Illinois, you may need to increase your course load, attend summer school, take a class over winter break, or extend your graduation to complete the program. On average, 80% of the students in the program earn their bachelor of science degrees and the T&M minor in four years. You will be required to plan out your curriculum demonstrating how you will accommodate the additional courses as part of the application process.
Is it possible to take one or more T&M courses without being enrolled in the program?
With the exception of MSE 101: Materials in Today's World, T&M courses are taken only by students selected for the T&M Program.
Can graduate students apply to the T&M Program?
No, the T&M Program is an undergraduate minor. There is a Master's of Science in Technology & Management Program. For more information, please visit this page.
We want to ensure that you learn as much about the program as you can and encourage you to contact the T&M Program Office for any additional questions.