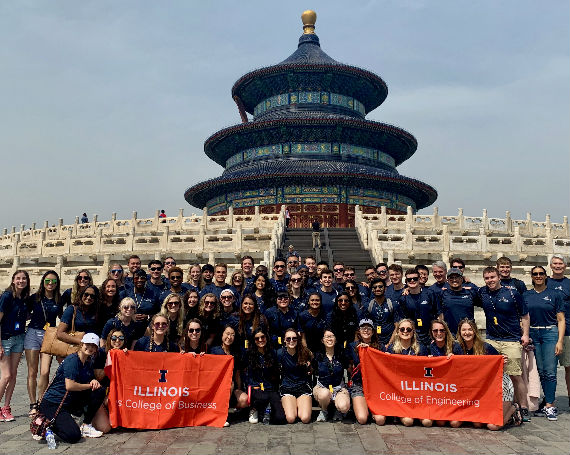 Immediately following their first year of the T&M Program, students have the opportunity to learn about the global nature of business through an international immersion trip. Students visit multinational companies and have the extraordinary experience of immersing themselves in the culture, history, and food of a country outside the United States. Plus, they visit some of the most famous sites around the world.

The primary component of the international immersion trip is for students to better understand the dynamics of business in a global setting. Students visit the T&M corporate sponsors at their offices outside the United States to learn about the companies' national and multinational strategies. In addition to company visits, students interact with a variety of Illinois alumni.
International Business Plan Competition
Beyond the annual international immersion trip that all juniors in the program are encouraged to attend, each winter break brings an opportunity to participate in an international business plan competition. A select group of T&M students travel abroad to compete with undergraduate and graduate students from top universities in Hong Kong, Brazil, and Germany. Students from all participating universities are grouped into multinational teams to develop business plans that take advantage of emerging technologies.

Past competitions have taken place in Hong Kong, Chicago, Seoul, London, São Paulo, São Carlos, Johannesburg, Bayreuth, and Silicon Valley. The unique nature of an international competition of this duration has demanded a strong capacity for interdisciplinary thinking and provided students with the opportunity to develop global team building and technology management skills. The development of pioneering business models has required students to consider economic, technical, social, environmental, legal, and ethical perspectives. Students have described this competition as the most challenging, enriching, and rewarding experience of their college careers.