May 18, 2020 2020-05 Alumni Finance
Cancelled summer internship? New fellowship supports students, Illinois small businesses
Responding to thousands of invaluable internships cancelled because of COVID-19, two recent University of Illinois at Urbana-Champaign alumni have created a way to simultaneously support their fellow Illini and the many small businesses impacted by the pandemic throughout Illinois.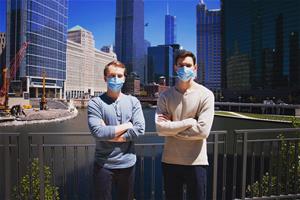 Gies College of Business alumnus Alex Littleton (FIN '18) and College of Media graduate Walker Post (JOUR '18) have launched the COVID-19 Business Fellowship Program. It matches talented students throughout Illinois with restaurants, salons, and other small businesses that need help reimagining how to engage customers in the "new normal". This summer's goal is to help at least 50 businesses create innovative, digital-first marketing, advertising, and communication projects (June 8-Aug. 17).
Applications for student fellowships and businesses are open now through May 29. The program will prioritize rising sophomores through seniors and pro bono support for companies with fewer than 50 employees. Since its launch May 11, the program has received more than 150 applications for junior and senior mentors and fellows.
Littleton was struck by social media posts about cancelled internships from younger classmates in the Phi Gamma Nu professional business fraternity. A rising star at JPMorgan New York working on blockchain product solutions, Littleton had returned to Chicago for the quarantine. Post, who lives in Chicago's Bucktown neighborhood, is an editorial fellow at GreenHouse:Innovation and is also a social impact consultant at Prosper Strategies, an advisory for nonprofits. They both continue to work full-time remotely.
"We looked around and saw family businesses we've known all our lives closing down for good. We're losing the soul of neighborhoods," said Littleton. "This offers alumni a unique way to contribute to their communities with a strong return on investment. If I weren't a Gies alumnus I don't know where this project would be. We have a natural affinity for seeing each other succeed."
Littleton is a living example of how Gies Business provides more than a great business education to find a career. Gies intentionally provides an environment and the resources that foster meaningful actions to empower students to follow their path and put their purpose into practice to make the world a better place.
Over a weekend in April, after a Zoom call where Littleton was brainstorming ways to give back with colleagues, he hatched the idea of a student fellowship. A few hours later and after a long phone call with Post, they knew what they had to do. Littleton, a Business Honors student and graduate of The Hoeft Technology and Management Program, reached out to several Gies College of Business faculty professors and alumni to help shape the idea – including Finance Professor Rob Metzger, who is the director of the Investment Banking Academy at Gies, and Alan Lev, a member of the Gies College of Business Alumni Board.
"Alex has a track record of pulling off entrepreneurial endeavors," said Metzger. "He founded and successfully launched the Venture Capital Association while on campus and his passion for this kind of work is incredibly high."
Before launching, Littleton and Post fielded a statewide survey to better understand the types of support small businesses need now. More than 80% were looking for help with their digital and social media presence.
"Digital-first, engaging remotely, is the new normal for the foreseeable future," said Post.
The duo is seeking mentors willing to invest two to four hours a week coaching a team. They have also launched a GoFundMe page asking for donations so that each student receives financial support following the fellowship as a sign of appreciation. The goal is to raise $100,000 with all proceeds directly funding these fellowships.
Littleton and Post have underwritten the project's start-up costs. Its 40-person organizing team includes 37 Illini students and graduates now working at Amazon, Apple, Boston Consulting, Deloitte, Facebook, Google, Tesla, and West Monroe Partners.
"What started as a way to solve a short-term problem is quickly growing into something that can be meaningful to both students and businesses beyond this summer," said Post. "We're both very passionate about this sector and are having daily discussions about how our work in Illinois could potentially be translated into a larger initiative one day."