Caterpillar continuing commitment to Gies, U of I
When it comes to continued engagement with Gies College of Business and the University of Illinois, few do it as effectively as Caterpillar Inc. The Deerfield, Illinois-based construction equipment manufacturer continues to solidify its commitment to the University and to the College, and it's paying big dividends for both Gies and Caterpillar.
It all started a few years ago when Caterpillar's CEO at the time and University of Illinois President Tim Killeen talked about the need to partner more closely together. The two sides formed a strategic alliance, which now involves approximately 10 major work streams covering everything from engineering to business. With more than 1,100 University of Illinois graduates working at Caterpillar today, the alliance provides a space for interested alumni to engage with the College and the University. One particular alliance workstream, Business Development, works closely with Gies to discover ways to positively impact students and prepare them to become business leaders of tomorrow.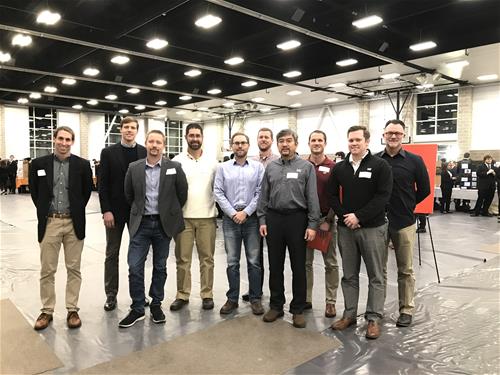 "Not surprisingly, we're initially viewed by students as a company providing engineering opportunities, but we want them to understand tremendous opportunities exist for business careers as well," said Kirk Hoffman (ACCY '92), Caterpillar's Director of Competitive Intelligence. "It's so important for us to invest time with students and faculty on campus. We've made a concerted effort to engage on campus as much as possible."
Hoffman, and his colleague Steve Weiland (ACCY '01), are part of the Business Development team, which engages with the College in a number of ways. For example, when the Supply Chain Management program kicked off its Corporate Affiliates Program in 2018, Caterpillar was one of the first companies to join and was instrumental in forming the Supply Chain Program itself many years ago. This has allowed the Company to provide input on curriculum, guest lecture in classes, and network with students. Caterpillar regularly provides experiential learning projects for Gies students, including two projects for Business 301 last semester, which will soon be the largest experiential learning course in the nation. Caterpillar is also a Corporate Sponsor of the Hoeft Technology & Management Program, a joint university minor between business and engineering, where Steve is the current Vice Chair of the Corporate Affiliates Board. The Company also provides significant support to the Business 101 curriculum by supplying capstone cases and sending representatives to the judging session to provide valuable feedback and get to know the new freshmen.
"We've seen an important shift in curriculum to a more experiential-based learning approach. There is more of an emphasis on case studies and corporate projects," said Weiland, CFO of Cat Digital. "To connect with today's students, one must develop a relationship with them at a much earlier point in their campus journey. Whether we're supplying case studies for Business 101, guest lecturing, or providing action learning projects, it's been an extremely rewarding experience for us."
That close engagement was a primary reason that Caterpillar recognized an opportunity for a full-time presence on campus. The Champaign Caterpillar Innovation Center at Research Park brings together students and Company resources. The Center hosts full-time employees in Engineering and Analytics, and it serves as a place where students can work in co-op positions, attend events, and experience everything Caterpillar has to offer.
"The world is becoming a more competitive place, and we're definitely seeing an arms race for talent at the top-tier schools," said Weiland. "Students today are wise to recognize that their careers are about more than just money; they want to make a positive impact. They want to know that their efforts make the world a better place. Truly conveying corporate purpose and values requires a much earlier engagement with students, and I think that Caterpillar's mission – our solutions help our customers build a better world – is very relevant for students today."
"If another alum wants to develop engagement like we have at Caterpillar, I'd say it begins with executive sponsorship or a senior leader in their organization," said Hoffman. "Use that connectivity to begin a relationship with Gies and the U of I. The amount of doors [Senior Director of Corporate Relations] Barry Dickerson opened for us has been invaluable. That door was open because senior leadership at Caterpillar pursued it."
"I sincerely believe that Illinois is one of the best schools at which Caterpillar can recruit," added Hoffman. "These students are the future business leaders we need at Caterpillar. We've been around 95 years, and I want us to be even stronger the next 95 years. Illinois is the best place for that."