Dec 20, 2019 2019-12 Accountancy Alumni Business Administration Faculty Finance Student
Gies ranked #7 public business school by Poets&Quants
CHAMPAIGN, IL - Gies College of Business is once again ranked as a Top 10 public undergraduate business program in the nation, according to the latest rankings released by Poets&Quants. Gies Business was ranked #7 among public business schools and #19 overall. The publication takes into consideration factors such as admissions standards, the college experience, and career outcomes.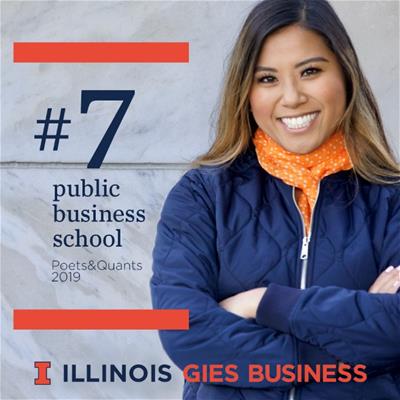 "I truly believe our purpose-driven undergraduate experience at Gies is unmatched among business schools anywhere in the world," said Jeffrey R. Brown, Josef and Margot Lakonishok Professor of Business and Dean. "From our leading-edge curriculum to our world-class faculty, everything we do is designed to help our students connect the dots between their education and a purposeful future."
Gies has recently revamped its core curriculum, which now includes a full year of data analytics for every undergraduate student. Each student will also participate in four years of cohort courses, which keeps each class together through a series of courses focused on professional responsibility, business simulations, experiential learning, and the global dynamics of business. Gies prepares each student with valuable experiential learning and data analytics skills so they are prepared to succeed in their careers from day one.
"One of our greatest strengths is our commitment to and our success in creating a comprehensive, profession-ready experience for each Gies student," said Brown. "Gies is filled with academic and experiential innovators, all of whom inspire the next generation of business leaders."
About Gies College of Business
For more than 100 years, Gies College of Business has intentionally designed its innovative programs, leading-edge curriculum, and experiential learning opportunities to empower and prepare students to turn big ideas into meaningful actions. Today, Gies faculty prepare more than 7,000 future business leaders, including 3,100 undergraduates, from around the world to put their purpose into practice and provide transformative leadership in a global economy. GiesBusiness.illinois.edu
About the University of Illinois at Urbana-Champaign
Founded in 1867, the University of Illinois at Urbana-Champaign has earned a reputation as a world-class leader in research, teaching, and public engagement. From the development of the modern web browser to the discovery of the Archaea, Illinois has a long-standing history of creating life-changing innovations that impact the world. Among the nation's most prominent research institutions, researchers at Illinois continually make foundational discoveries that transform the way we tackle global problems, develop technology, and expand the human experience. illinois.edu