Dec 5, 2019 2019-12 Alumni Business Administration
Alumna uses artificial intelligence to make talk therapy accessible, affordable
Making mental healthcare easily accessible to anyone is what led Rima Seiilova-Olson (MSTM '10) to become co-founder of Kintsugi Mindful Wellness, talk therapy software that combines machine learning and voice journaling to tackle stress, anxiety, depression and loss.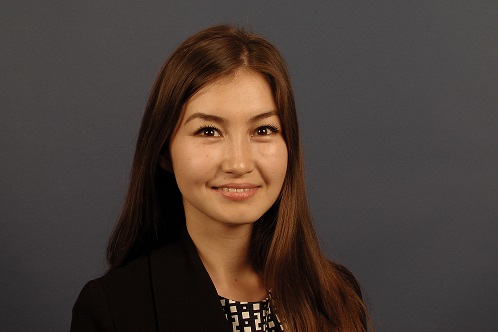 "There's a big opportunity right now to use artificial intelligence for good. AI is not 'summoning the demon' like Elon Musk says. When you're suffering, you need affordable access to help right away," said Seiilova-Olson, who met Kintsugi cofounder Grace Chang at an OpenAI hackathon in San Francisco. They quickly discovered they shared a passion for exploring how technology can help people address their mental health needs. Both had faced their own mental health-related struggles and were frustrated about the lack of services
"Some people have expressed their doubts about our idea, but I learned at Gies Business that good ideas often are met with a lot of resistance," said Seiilova-Olson. "The case study work in Professor Geoffrey Love's class reminded me to do my homework and show the research behind our thinking. I learned it takes considerable effort to turn theoretical knowledge into a product you can put in a user's hands."
After earning a software engineering degree in Kazakhstan, Seiilova-Olson found herself seeking a graduate business degree in the United States. She chose the Master of Science in Technology Management (MSTM) program at Gies College of Business because of its focus on theory and practical applications. The MSTM curriculum at Gies develops both essential business management and analytical expertise, with the role of technology as its common theme. The MSTM is part of a suite of specialized master's programs designed to help students put their purpose into practice to make the world a better place, what Gies calls "Business on Purpose."
Kintsugi's mobile app analyzes users' voice biomarkers to look for signs of stress, anxiety, and depression. It measures the intensity and range of emotions. Then, considering age, geography, and health markers, it makes clinical and non-clinical recommendations to change unhelpful patterns in thoughts, beliefs, attitudes, and behaviors. It shows the bigger picture, for example, of how exercising affects an individual's mood. Kintsugi is named after a Japanese philosophy that treats breakage and repair as part of the history of an object, rather than something to disguise.
Seiilova-Olson believes Kintsugi can benefit many demographics from college students to lower-income families to rural America. She notes there is no "magic pill" for any person, but Kintsugi gives people an arsenal of tools. It can also be used in tandem with group therapy and traditional talk therapy.
In October, Kintsugi received a National Science Foundation award to scale this US patent-pending platform that's already available in 250 cities. NSF recognizes entrepreneurs working on research and development of ground-breaking, high-impact technology that promotes social good.
"The mental healthcare system is extremely insufficient, expensive, and full of bureaucracy. I never thought I'd be an entrepreneur, but addressing this need has become my life's calling," said Seiilova-Olson. "It's what 'Business on Purpose' means to me."