Sep 15, 2023 Business Administration Faculty Research in Education
NSF awards grant to support commercialization of university-developed technologies
To improve the capability for new technologies to successfully enter the marketplace, the U.S. National Science Foundation (NSF) announced a three-year, $5 million grant to Joe Cheng, a research professor of business administration at the University of Illinois' Gies College of Business, to create a new entrepreneurial training and mentoring program (NSF Award #2337688) for academic researchers.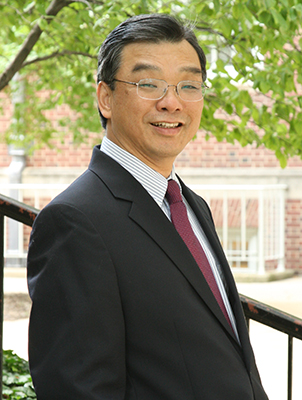 Cheng will lead the effort to develop and evaluate a pilot program for NSF that will enhance the ability of researchers in science, technology, engineering, and mathematics (STEM) to move their innovations from the lab to the marketplace.
"Gies is a leader in research and teaching innovation and entrepreneurship," said Jeffrey R. Brown, Josef and Margot Lakonishok Professor in Business and Dean at Gies Business. "So we are excited that Professor Cheng has been tapped to lead this important initiative. He has the expertise and background to develop something that will benefit scientists and innovators across the country."
"The new entrepreneurial training aligns with the goals of the 'CHIPS and Science Act of 2022,'" said Erwin Gianchandani, NSF assistant director for Technology, Innovation and Partnerships (TIP). "It will serve to accelerate the translation of research and increase the successful commercialization of key technology areas, thereby strengthening U.S. economic competitiveness."
Currently, NSF offers Innovation Corps (I-CorpsTM), an immersive, entrepreneurial training program that was created to help scientists and engineers translate their NSF-funded research into a business model that will have positive economic and societal impacts. "This new program that I will be creating builds on and extends what NSF has been doing over the past 10 years," Cheng said.
Cheng will work with a multidisciplinary team of experts to develop a comprehensive, first-of-its-kind training program for NSF that will cover topics across the full spectrum of STEM translation and commercialization. His team will include both academics and practitioners.
This grant comes from the NSF Directorate for Technology, Innovation and Partnerships (TIP). Established in 2022, this is the first new directorate at NSF in 30 years. Its unique mission is to advance "U.S. competitiveness through investments that accelerate the development of key technologies and address pressing societal and economic challenges."
In addition to developing the program, Cheng and his team will be testing its effectiveness. "This program will be field tested with a proof-of-concept study using a quasi-experimental design on multiple comparison groups and impact outcome indicators at short, medium, and longer-term intervals," Cheng said.
Cheng will be the sole principal investigator for this grant project. "I will be the leader of the team to develop the training program and to evaluate its effectiveness," Cheng said. "I am honored and humbled that NSF entrusted me to do both aspects of this project."
Cheng knows that the three-year grant brings with it an aggressive schedule to develop, launch, and evaluate the effectiveness of the program overall. Cheng said, "I have already started discussions with people about being in the team of experts, but we couldn't move forward until the official funding announcement."