Aug 23, 2023 Accountancy Alumni Business Administration Faculty Finance Student
Unique entryways to business education: business minor to MSM degree
Many students don't know their exact career goals when they start their college journey. Gies Business recognizes that, providing a variety of entry points to world-class business education.
Within the College, Gies Business encourages undergraduate students to explore their possibilities before declaring a specific major in their sophomore year. And for students who aren't majoring in business but decide they want a business education, the College offers a business minor to introduce them to foundational business knowledge.

The entry points don't end at the undergraduate level. Along with graduate programs for learners interested in building on their undergraduate business degrees, Gies Business offers master's degrees designed specifically for graduates who didn't previously major in business.

Students who complete the business minor may be able to receive preferred admission* to select Gies Business graduate programs based on their GPA.

The on-campus Master of Science in Management (MSM) is one example. This nine-month program for students who recently earned a bachelor's degree outside of business helps prepare graduates for success at the start of their career by adding business and management to their skill set.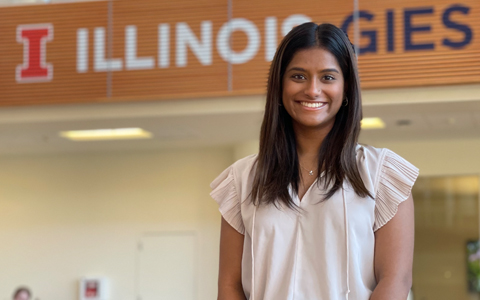 Rhea Menon (LAS '22, MSM '23) saw the value of adding business to her undergraduate degree, completing both the business minor and the MSM program. Together, they helped her attain a full-time position in benefits consulting.

Menon (right) came to the University of Illinois to pursue clinical psychology but quickly realized she preferred organizational psychology instead. This concentration taught her about psychology in the context of a company, focusing on topics like employee satisfaction and work-life balance. She saw the business minor as a way to complement her major.

"I genuinely think the business minor is one of the most useful things you can do if you're not a business major," Menon said. "These are classes that will help you apply what you learn, and I think that's what I enjoyed the most out of them. It's a very valuable minor because you get to learn how businesses work, and it actually applies to real life."

Students in the business minor complete four required online courses in addition to at least two electives.

Menon took the business minor opportunity a step further, becoming a teaching assistant for one of the electives – Ethical Dilemmas of Business. She credits her time as a teaching assistant with helping her hone her leadership skills while gaining many networking opportunities.
"Being a TA was such a valuable experience," Menon said. "Even in interviews, I talked about how you don't realize how hard it is to be a leader among your peers until you're in a situation like that. Being a TA teaches you a lot more real-life skills and how to be a manager in the real world."

After earning her bachelor's in psychology and completing the business minor, Menon decided to expand on the six business courses she took. She chose to continue her business education in the Gies Business master's in management (MSM) program to prepare for a career in benefits consulting and human resources.

During her time in the program, Menon once again served as a teaching assistant, this time for an undergraduate course called The Legal Environment of Business. She also gained experience through a research assistantship available only to MSM students. The MSM program and research assistantship introduced Menon to case studies and sharpened her research skills.

"A big part of grad school is understanding how to conduct and present research, how to analyze data, how to statistical code – all things that actually came up in every single interview I ever had for a full-time position," Menon said. "A big thing that the MSM program gave me was the research assistantship because data analytics seems to be very integral to consulting and analyst roles."

As Menon starts her career, she's grateful and excited for the opportunity to combine what she learned in the business minor and MSM program along with her psychology degree.

"I'm going into benefits consulting, which for me was such a big overlap of the things I learned in psychology and in business."

Learn more
The business minor is available to University of Illinois Urbana-Champaign students outside Gies Business. Read more about the business minor and how it can give you preferred admission* to select Gies Business graduate programs.

If you're interested in applying for the MSM program, learn more about the application process and deadlines.

*Other requirements and capacity limits may apply.