Jun 12, 2023 Alumni Faculty Finance
Entrepreneurship through Acquisition: Gies grad puts coursework into action
When Gies Business graduate Josh Kirby walked into the Entrepreneurship through Acquisition class this spring, this time, he wasn't there as a student. The 2019 finance graduate returned four years after taking the class himself to share how he lived out what he learned – acquiring a business in 2020.

Kirby, who's now owner, president, and CEO of Guardian Wealth Management in Peoria, credits the course with teaching him the ins and outs of small business acquisition and wants to show other students that entrepreneurship through acquisition is more than just a concept they discuss in class.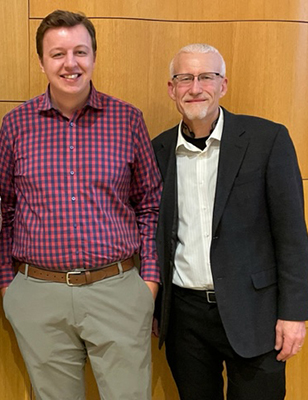 "The acquisition wouldn't have happened without knowing about the opportunity from this class," Kirby said. "In a lot of ways, it was a blueprint and map to know where to start. I hope that students feel that they can do it, too."

Mark Smith, a senior lecturer of finance at Gies Business, launched the course in 2019 to teach both undergraduate and graduate students about a lower-risk route to entrepreneurship they may not have considered – buying a small business rather than starting one from scratch.

"A lot of times, the idea of entrepreneurship is that you have to build something from the ground up, and that's not true," Smith said. "My definition of entrepreneurship is that it's a person who wants to control their own destiny. If I build my own business, I control my own destiny, and if I buy a business, I control my own destiny."

The finance course, which takes place each spring, features lectures and guest speakers who teach students how to find, value, finance, and grow opportunities to acquire small businesses. Like Kirby, many of the guest speakers are Gies Business alumni. And those alumni inspired Kirby when he was a student.

"I feel very appreciative that there are a lot of people who go out and achieve success based on what they've learned here and their relationships that they've made here," Kirby said. "And they don't forget to give credit to where they launched from."

Smith also values alumni guest speakers and believes students can relate to Kirby in a unique way because of how recently he was in their position.

"Students can really identify with Josh because he's a recent graduate, and I think it gets them excited that they can do this," Smith said.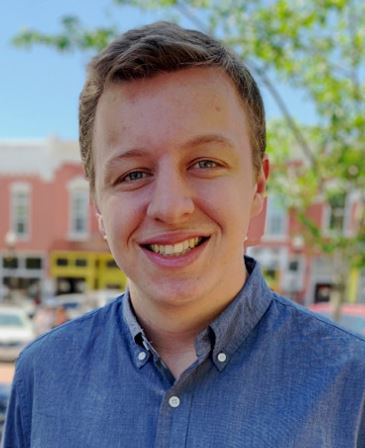 Kirby was looking for a course to complete his schedule in the final semester of his senior year and didn't know much about acquisition before taking the class. He signed up for the course on a recommendation from Smith. Kirby valued Smith's advice, having worked with him through Illinois Enactus, a student organization that focuses on making an impact through entrepreneurship. The course taught Kirby exactly what Smith had hoped to instill.

"Before the class, I felt like you had to invent something to be an entrepreneur, and this was my first insight that you didn't have to," Kirby said.

Even with the information he learned in the course and knowing that acquisition is less risky than creating a new business, Kirby knew there was still a level of risk involved, especially so early in his career. But when he discovered his uncle was planning to sell Guardian Wealth Management, Kirby knew he wanted to put his coursework into action, despite his fear.

"This is a legitimate risk," Kirby said. "It's one where you have to get comfortable making sure that it's a risk that also aligns with the reward you want both financially and personally."

Guardian Wealth Management, which offers investment management, tax planning, and estate planning, aligned with Kirby's interest in entrepreneurship and with his desire to make a difference in people's lives, so he pursued the opportunity, using what he learned in Smith's class.

"I hope to make something that can be scary for people less scary," Kirby said of his work through Guardian Wealth Management. "There are a lot of people who have this emotional feeling around money, and it's scary to them to figure out how to manage their money. I think that when you can bring in calming expertise and knowledge, that creates some peace for people. That's a really rewarding feeling."

Smith appreciates Kirby's gratitude for the course and his willingness to share his story with current students. And Smith is excited the class is helping shape students' careers.

"It's validation that what you're doing is making an impact and changing lives," Smith said.