Jun 7, 2023 Business Administration Faculty Research in Education
The dark side of online shopping: How retail marketplaces game the system
New research from Gies College of Business uses game theory to analyze how online retail marketplaces such as Amazon pit sellers against each other to boost revenue, making it harder for consumers to identify the best product to buy.
"Surprisingly, we show that platforms may choose to tolerate fake sales and fake reviews by sellers or even make a fake endorsement to manipulate product attractiveness," said Yunchuan (Frank) Liu, associate professor of marketing at Gies. "This not only hurts a consumer's product choices but also may reduce a seller's incentive to improve their product."
The paper, "Platform Manipulation in Online Retail Marketplace with Sponsored Advertising," looks at the economics of online marketplaces and platform bias, the effect of fake reviews as a promotion strategy, the quality of third-party certification, and sellers' competitive strategies. It is the first research study to examine the interaction between a platform's ranking design and its incentive to manipulate product attractiveness. Fei Long, assistant professor of marketing at University of North Carolina at Chapel Hill, co-authored the paper, which has been accepted for publication by Marketing Science.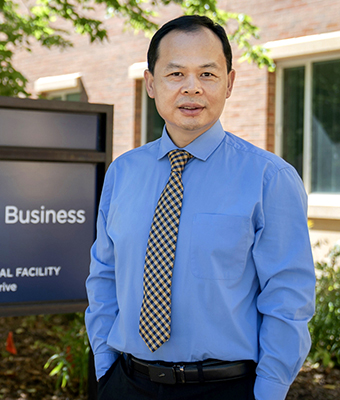 "We used game theory methodology to disentangle the complexity of the platform, separating it into the moves made by the company, seller and consumers. By using this theoretical model, we can clearly see who is causing the trouble," said Liu (left).
The study, which focused on Amazon but can be applied to other retail marketplaces, shows these platforms use several manipulative tactics. For example, Amazon can charge sellers a premium for a top-ranked "Sponsored," "Best Seller," or "Amazon Choice" position, or buy blocks of favorable reviews to make an inferior product appear more attractive. China's Taobao and Alibaba have long been accused of encouraging "brushing," a deceitful technique that boosts a seller's ratings by creating fake orders that are shipped to an accomplice or unsuspecting consumer in another country.
For example, a seller may create a fake order with a tracking number for an expensive product. The consumer will receive an inexpensive item instead, but the platform will show it as a sale. This boosts the seller's volume and ranking. In 2020, one such scam that originated in China became known as the "seeds of terror" because it involved sending consumers around the world packages that were labeled as jewelry, but actually contained mustard, cabbage, and hibiscus seeds.
"These platforms provide so much convenience, but they are turning into 'axes of evil'," said Liu. "Consumers can no longer count on rank order, reviews, and recommendations to reflect a product's true popularity and quality."

Lui said retail platforms are unlikely to change these practices on their own because they make more money by keeping them in place. For example, Amazon can charge one seller for a "Sponsored" slot, putting them in the number one position, and charge another for a "Recommended" position immediately below it. Those two sellers may then look for another advantage by lowering the price, which in turn drives sales—with Amazon pocketing anywhere from 8% to 15% in seller fees.
"To date, government oversight is focused primarily on the national data security of these platforms, particularly those that are based in China," said Liu. "This research provides a roadmap for how public policy makers and lawmakers can expand their scope to address the welfare of the millions of buyers and sellers who use these retail platforms."
The solutions won't be simple. Liu believes public policies such as simply banning fake sales and fake reviews by third-party sellers may not necessarily eradicate manipulation on the platform, especially if they ignore the platform's incentive to do so in the first place.
"The debate is becoming more intense, and people are paying more attention, but this issue needs more visibility with those who can effect change," said Liu. "In our next phase of the study we'll look at how these retail marketplaces are manipulating their platforms to promote their own brands."