May 22, 2023 Accountancy Alumni Business Administration Faculty Finance Giving Stories Student
Wymer hopes naming gift is an "example for others"
Steve Wymer still remembers the first time he was asked to put his name on a university building; it happened his senior year at Illinois in the fall of 1984.
"I was walking on campus with one of my favorite professors, Richard Ziegler, and we were approaching one of the buildings. He threw out the comment 'If you give us a million dollars, we could put your name on one of these buildings,'" Wymer recalled. "Well, as a college student, I easily passed on that offer at the time, but that was definitely the first ask."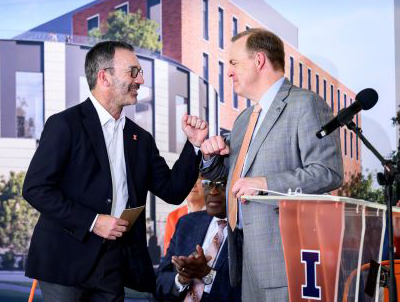 Nearly 40 years later Wymer (ACCY '85), who is now a portfolio manager in the Equity and High-Income division at Fidelity Investments in Boston, was presented with a much more serious and impactful request: help fund the construction of a new building for Gies College of Business. This time Wymer jumped at the chance to give back to a College that gave him so much, and in return, that new building will be named Steven S. Wymer Hall.
"I was fortunate to be able to attend the University of Illinois and Gies College of Business, one of the preeminent business schools and one of the top accounting programs in the nation," said Wymer, who went from working as small business consultant at Deloitte Haskins & Sells to becoming one of the nation's leading experts in investment management. "My experience there opened a lot of doors for me, and I'm honored to able to give back in this way."
Steven S. Wymer Hall is a partnership between Gies Business and the University of Illinois Urbana-Champaign to provide an advanced, high-tech facility serving both on-campus and online learners. The nearly 100,000-square-foot building, which will stand on Gregory Drive between the Business Instructional Facility and Huff Hall, will support Gies' foundational commitments to access, innovation, excellence, inclusion, and engagement. Additional studio space and recording capabilities will serve the College and University's rapidly growing online programs, enabling Gies and other units on campus to expand access and create a highly engaging learning environment. Expanded collaborative space for experiential learning and group work will foster a culture of inclusion and innovation. New, larger classrooms – which will also be shared with other units on campus – will support projected enrollment growth, ensuring Gies can expand life-changing access to education. And additional office space for Gies faculty and support staff will ensure a collaborative environment where colleagues can continue their tradition of excellence.
Crews broke ground on the building in April 2023, and construction is expected to be completed by January 2025.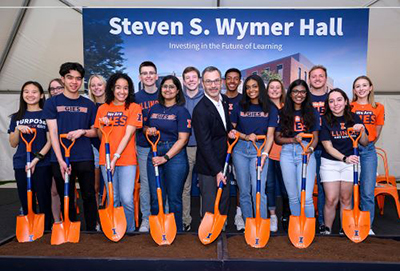 "It's been a while since I've been in school, so I can't fully appreciate how the teaching model has changed and will continue to change – especially when it comes to hybrid education, advanced degrees, and a new age of residential undergraduate education," said Wymer. "This building is the latest sign of the College's commitment to investing in the future of learning, and I want it to be a place where faculty, staff, and students can do their best work."
Gies College of Business is where Wymer did some of his best work. A native of nearby Danville, Illinois, he quickly found a home at the University of Illinois. He joined Beta Alpha Psi, a professional business fraternity, eventually rising to the position of president. That's also where, as a senior, he connected with an unassuming freshman, with whom he built a relationship that would last to this day. That freshman was Larry Gies (ACCY '88), now the namesake of Gies College of Business.
"As an upperclassman at the time, I had the opportunity to share some insights with Larry and help him transition to college life," Wymer said. "We've reconnected recently, and actually he and his wife Beth have become role models for my giving. Too many times, when people donate, they wait until their final years or even after their death. My philosophy is to start giving as early as possible, so I could make an impact on as many people as possible."
That giving was especially impactful during the COVID pandemic. During that time, Wymer provided substantial donations to the College anonymously for student scholarships, faculty research, and staff support. Those investments enabled more students continue their education uninterrupted during difficult financial times, helped faculty continue their important research, and lifted staff morale during a difficult transition to remote and hybrid work.
"I'm so appreciative to have received a partial scholarship from then-Dean Vernon Zimmerman, and that was instrumental in starting my business career," Wymer said. "During COVID, I asked Dean Brown what the College's biggest needs were. He mentioned those three areas – scholarships, faculty research, and staff support – and it was a no-brainer for me to jump in and help."
That type of support from alumni and friends helps Gies College of Business live out its Business on Purpose promise – a pledge to provide the resources and experiences that help put faculty, staff, and students on the path to discovering and achieving their own individual purpose. Steve Wymer is doing his part, though you will never hear him talk about his own giving. He much prefers to give in the background and let others do the talking.
"My decision to put my name on the new building came down to the fact that putting your name on a gift can help motivate others to give, too" he said. "Even though it's a public institution, the university and Gies Business need all the private support they can get – and people don't realize that. I'm investing in the vision that Dean Brown and College's leadership have laid out, and I hope it can be an example for others."