May 11, 2023 Alumni Business Administration Finance Student
Batter up! Two Gies alumni heading to the major leagues
A pair of 2023 Gies College of Business graduates are embarking on their dream careers in professional baseball. Zach Zoloto and Diego Acosta have moved on from their goal of playing in the major leagues; instead, they're using their Gies master's degrees to add value in other areas of their organizations. Acosta is working as a technology coordinator with the Baltimore Orioles, and Zoloto is an Advance Associate with the Detroit Tigers.
As a baseball-obsessed kid, Zoloto discovered an early love of data. He was always looking for ways to use data to make himself better. But after playing baseball all the way through high school, he felt "burnt out" on the game as he entered college.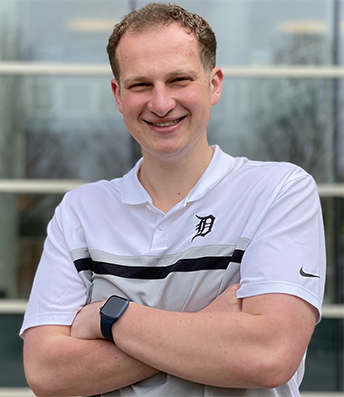 "I majored in finance at another school, never intending to get back into baseball. But then as time went on, I really started missing the strategic and competitive elements of the game," Zoloto (right) recalled. "I decided to work with the college baseball team as a student manager, and I enjoyed using data and numbers to improve on-field performance. I found an edge being able to leverage analytical knowledge and statistics."
Internships with the Chicago Dogs – an independent professional baseball team – and the Tampa Bay Rays of Major League Baseball solidified his interest in pursuing a career in the analytical side of baseball, but he knew something was missing from his education. The Highland Park native decided to come back to his home state for graduate school, and he enrolled in the Master of Science in Business Analytics (MSBA) program at Gies.
"I realized that I needed more technical experience if I wanted to work in baseball analytics, and I didn't have a sufficient level of coding or statistical knowledge," Zoloto said. "As I explored Gies' MSBA program, I liked concepts they explained, the core coursework, and of course the opportunity to work with the Illinois baseball team. It's been exactly what I had hoped for."
The MSBA is a nine-month, STEM-designated program that teaches skills for high-demand jobs through a strong integration of finance, information systems, and accounting – along with data analytics skills like gathering, managing, analyzing, and communicating data.
Zoloto has turned those newfound skills into a job with the Detroit Tigers, working in advanced scouting. He prepares reports, videos, and does ad hoc analytical projects for players and coaches to help apply analytical tools and concepts to upcoming games.
"The MSBA has helped me broaden my communication style to be able to prepare analyses and communicate them with a wide variety of audiences," Zoloto said. "Through the MSBA Program coursework (Especially Data Science and Analytics with Professor Khandelwal and Data Storytelling with Professors Borkiewicz and Bushell), I feel I have tremendously grown my analytical skillset, while understanding the different methodologies to communicate with people. I'm also extremely thankful for the Illini Baseball program (Coach Allen, Coach Hartleb, Coach Christ, Coach Courtwright, the team, and the support staff), for being so receptive to the analytical concepts we brought forward, and helping push me to get to where I am today."
It's a similar story but a bit of a different journey for Diego Acosta. He always knew he wanted to work in baseball, but he wasn't sure which area he wanted to focus on. Acosta enrolled at the University of Illinois, majored in Recreation, Sport, and Tourism Management, and after an injury ended his playing career he immediately got involved as a student manager/bullpen catcher with the Illinois baseball team. Throughout the years, his role with the team grew, and as a bullpen catcher, he began to work closely with the Pitching Coach Mark Allen.

"Throughout the years I feel like I have gained a lot of trust with the coaching staff," Acosta said.

He began utilizing different technologies such as Trackman units and Edgertronic cameras to collect and analyze both data and video to assist the coaching staff with player development. Acosta also began formulating advanced scouting reports for regular season games.

"I put together a few different advanced scouting reports for each team we face that range from opponent swing decisions to how to best approach an opposing hitter," Acosta said.
Thanks to work with Illinois' coaching staff, Acosta quickly developed an interest in player development, and he decided that was the path he wanted to follow. He described his undergraduate education as very "sports-focused" and valuable, but as he prepared for his career, he realized he wanted to add some business acumen. So Acosta stayed on campus and enrolled in Gies' Master of Science in Management (MSM) program.
The MSM is a nine-month, STEM-designated program that provides fundamental business skills with the option to specialize in data analytics, marketing, global business, and finance.
"Everything is a business these days – even baseball – and I wanted to develop a more well-rounded skill set and learn how the business world works," Acosta said. "The MSM has given me understanding of all that, and I've loved the experience of working with people from different backgrounds and learning how to work effectively together."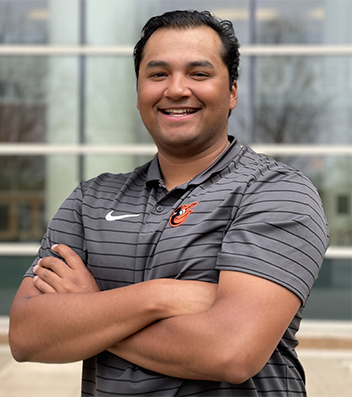 Acosta (right) points to Enterprise Data Management and Big Data Analytics in Finance as two courses that were especially applicable to a career in baseball. They taught programming languages like SQL and R, which helped Acosta analyze data and effectively produce tables and charts. But one professor, James Noonan, especially stood out for making a personal impact on Acosta's education.
"Professor Noonan used to be a lawyer, and then completely switched career paths and has never looked back," Acosta said. "His message to us was to never think that you're stuck in one place. You always have a choice. That was really eye-opening for me. Everywhere you go, no matter what you're doing, you always have a choice to make."
As he prepared for graduation, Acosta started making important and positive choices. He sent hand-written letters to almost 100 major league baseball executives from every team. The Orioles were one of the teams that responded, offering encouragement and a promise to pass his resume along. Soon after, he interviewed and landed a job with the Orioles' player development department.
"A big part of my job is getting technology out on fields and ready to capture data," he said. "We set up specialized baseball radars that capture ball flight data during bullpens and utilize different kinds of cameras to record video. Then we make sure those numbers and videos are put into databases and accessible for coaches to use."
"I had some previous experience with that technology, and the MSM really helped me take that to the next level," he added. "I didn't have any business experience, and my professors understood that. They met me where I was and helped elevate my skills. I also enjoyed the flexibility of being able to tailor the program to my needs; I chose the data analytics concentration, but someone else might want a different focus. To get all that experience while also learning to work with different people from all over the world was a huge benefit for me."