May 3, 2023 Business Administration Faculty
Royal Fever: Will the Brand Play On for King Charles?
Shakespeare's words "heavy is the head that wears the crown" in Henry IV could have easily been written to describe King Charles' state of mind as he prepares for his coronation May 6, according to Gies professor emerita Cele Otnes.

"The Royal Family is a complex brand to manage, especially true now that its more revered member, the Queen, is no longer its stalwart pillar. Each dimension contributes to public perceptions of the brand and to its value and reputation," said Otnes, co-author ofRoyal Fever: The British Monarchy in Consumer Culture with Pauline Maclaran.
Otnes says the British Royal Family brand consists of at least five types of brands — all likely to be on display during coronation weekend: Family, Global, Heritage, Human, and Luxury. Each aspect offers new challenges to the new King.
Polishing a Tarnished Family Brand
The Family dimension of the brand has come under increased scrutiny. In almost Shakespearean fashion, King Charles finds himself navigating the fallout from feuding sons and the misdeeds of his brother Andrew, whom the Queen stripped of royal duties in 2021 because of allegations of sexual abuse, and his association with convicted sex trafficker Jeffrey Epstein.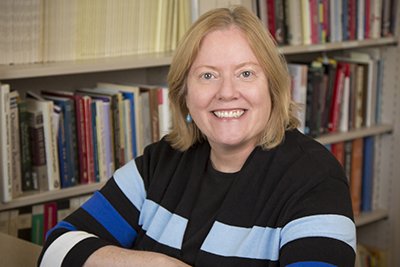 "The Royal Family has definitely lost some of its aura as being 'above celebrity,' and above the family issues that plague most people in their everyday lives," said Otnes (right). She added it has come a long way since 1955, when the Queen forbade her sister Princess Margaret from marrying a divorced man for fear it would taint the Royal Family and the Queen's role as head of the Church of England. Fast forward to today, where the King, a divorcee himself, has advocated that other faiths play a role in the Coronation – reportedly to the dismay of the Church's leadership.
Accepting the Frailties of the Human Brand

According to Otnes, the Human dimension of the brand is different from, although inextricably intertwined with, the Family brand because its focus is on the actions and personalities of individual members, and how they shape and influence the overarching brand image.
"The Queen was the ultimate Human brand who was essentially regarded as able to do no wrong," said Otnes. "Prince Harry and Prince Andrew are examples of Human brands that generate the great swings in public perception of individual reputation and demonstrate the negative impact of individual actions on the monarchy's brand."
More Zara, fewer Luxury Brands
"The Royal Family is an aspirational brand, meaning consumers often enjoy delving into and emulating its consumption of luxury goods," said Otnes. "But its ability to indulge itself in designer clothes and private jets has become problematic." Conspicuous consumption by the Royals definitely becomes more problematic when the British economy finds itself in a downturn.
To counter the monarchy's reputation as frivolous spenders, Princess Kate's wardrobe now includes pieces from Zara, where most dresses cost less than $100, compared with one her favorite designer, Alexander McQueen, which charges $3,500 per dress and more than $18,000 for a formal ball gown. And the Prince and Princess of Wales conspicuously flew a commercial airline instead of a private jet for their trip to the US in November. In addition, the King has recently begun to sell his mother's racehorses – a passion that was close to her heart, but also extremely expensive to maintain.
Right-sizing a Heritage Brand
Pomp and circumstance is one of the main brand benefits of the British Monarchy—and that will be on full display during the King's coronation.
"Creating memories and instilling pride in its people is an integral part of demonstrating their cultural value," said Otnes. "Along with celebrations like Jubilees, royal weddings and funerals, they place the monarchy's value as a Heritage brand on full display."
But as the United Kingdom's citizens face steep inflation amidst striking workers, King Charles is opting to scale back some of the over-the-top opulence traditionally associated with a coronation.
For example, he has shrunk the actual ceremony down to an hour and downsized the number of attendees at Westminster Abbey to 2,000 from the 8,250 who were invited to his mother's coronation. He will also ditch the extravagant clothing typically worn at these events – although the two ornate state coaches that featured in Queen Elizabeth II's coronation will still transport the newly-crowned King and Queen to and from Westminster Abbey.
Backlash Against the Global Brand

The British Commonwealth, which at its height ruled over one quarter of the world's population, shrunk significantly during Queen Elizabeth's reign. That trend is expected to continue under King Charles, with many nations actively voicing their desire to leave it.
"The recent backlash against the Global brand came as a surprise to the Royal Family," said Otnes, citing a disastrous visit by Prince William and Princess Kate to Caribbean nations in 2022. Several countries used it as an opportunity to renounce their affiliation with the Commonwealth.
"It's too soon to tell whether Anglophilia, historic ties to Britain in much of the world, and the desire to emulate aspects of Britishness in countries such as China will offset this troubling trend for the Monarchy," said Otnes.
"The Palace has its own internal public relations firm to address overall perceptions of the Royal Family brand," she added. "They will certainly be kept busy as the King defines his role and the role of the modern monarchy in Britain and beyond."
Otnes and Maclaran note their interest in the British Monarchy as a brand stemmed in part from the fact that many person-, place- and product/service-based brands contain several dimensions – think Disney, New York City, the related "Sussex" brand, and even educational institutions like the University of Illinois – and it's important that brand managers recognize these dimensions, and strategically consider how to manage their contradictions and complementarities. Otnes suggests firms conduct a "brand dimension" audit, to understand the different types of sub-brands that may comprise their umbrella brand, and to delve into the ways these sub-brands appeal to different target audiences and values.