Apr 24, 2023 Accountancy Alumni Business Administration Faculty Finance Student
Puente advocates for Latinos, collaborative approach to leadership
At the 2023 Leighton Lecture on Ethics and Leadership, Sylvia Puente ('80) shared her strategies for improving the influence of the Latino community based on their economic power.
"The Latino community is not widely understood as an economic powerhouse and we are not equitably benefiting from our contributions," said Puente, president and CEO of the Latino Policy Forum, a non-profit that works for equity, justice, and economic prosperity on behalf of Latinos in Chicago and Illinois. "While the rest of Illinois' population is declining, we're driving population growth at 15% over the past decade, which means we're driving labor market growth."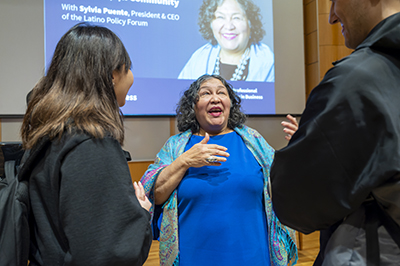 The Leighton Lecture is hosted annually by Gies College of Business and The Center of Professional Responsibility in Business and Society at the University of Illinois Urbana-Champaign. It is made possible through the generous contribution of alumni Richard and Grace Leighton in 1997.
"We believe a strong foundation in ethics and leadership is a critical piece of the educational experience. Our purpose is to shape purposeful leaders by access to education, research, and innovation," said Mark Peecher, Deloitte Professor of Accountancy and executive associate dean of faculty and research at Gies.
Puente is a member of Illinois Unidos, a group of 25 non-profit leaders, who voiced COVID-19's disproportionate adverse impact on Latinos and communities of color, securing economic assistance for hundreds of affected families and advocating for them in conversations with state and local leaders.
"Our advocacy efforts are always data driven. We wanted to make sure there was an equitable investment of the $500 million in housing, mortgage and rental assistance to families and households adversely impacted by COVID-19," said Puente, who added that the life expectancy of Latinos declined three years during the pandemic, versus one year for White and two years for Black residents.
To tackle her biggest challenges, Puente said she applies the power of "we" leadership, a concept coined by Juana Bordas in her book Salsa, Soul, and Spirit: Leadership for a Multicultural Age.
"In business, we often think of leadership as 'What can I do to get ahead? how do I brand and promote myself?'" said Puente. "My notion of leadership is how do I bring someone else along and extend a hand. Get grounded in who you are, then clarify your values by finding your voice and affirming shared values with those you collaborate with. To make real change, you can't do it alone."
Puente, recognized by Hispanic Business as one of the 100 Most Influential Hispanics in the US, said she always had an orientation to be an activist, but as a first-generation college student was unfamiliar with the concept of networking and mentorship.
"It took me a long time to realize you don't have to be strong all the time," said Puente. "I learned that reaching out didn't make me vulnerable, but it is actually a sign of strength. Don't be afraid to say 'I need some advice or help with some insights.' You can do that and still be a strong, capable person that can bring change to your community."
Puente has served as a member of the University of Illinois Board of Trustees and received the Alumni Achievement Award in 2015.