Apr 17, 2023 Accountancy Business Administration Faculty Finance Student
Teaching with intention: 103 Gies faculty ranked excellent
The University of Illinois recently released the latest List of Teachers Ranked as Excellent by Their Students, with 103 Gies Business faculty members earning rankings of "excellent" or "outstanding" for Fall 2022 and Winter 2022-23.

The list is the result of a questionnaire students from across the university fill out each semester about their courses and instructors, and the strong Gies Business presence on the list is just one of many examples of how the College emphasizes the student learning experience.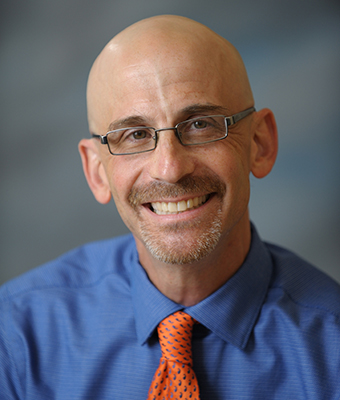 "Every semester, I make a point to not just look at the scores but to also read the student comments – what things they thought worked well and, very important also, what things could be improved," said Mitch Fisher (right), an instructor of accountancy who was ranked as "outstanding" on the latest campus list.

Fisher's philosophy of always looking for ways to improve matches the College's commitment to excellence in teaching. And that commitment informs the entire teaching process – from recruiting faculty to piloting new mentorship programs and innovating in the classroom.

"My role is to try to make sure that when we recruit new faculty, they really understand the Gies beliefs and commitments," said Mark Peecher, Deloitte Professor of Accountancy and Executive Associate Dean of Faculty and Research. "That's definitely excellence in teaching, but it is really a strong commitment to our students."

Peecher explained that excellence in teaching starts with finding faculty members who have a passion for helping students engage in their learning. Even if candidates bring a strong research background, Gies Business insists that candidates demonstrate a commitment to teaching as well.

"If the faculty member emanates that they really care about student learning, students are much more likely to ask questions," Peecher said. "And when students ask questions, they and their peers benefit. I think it leads to more constructive learning processes in the brain for the students because they're asking questions, they're manipulating the concepts in their minds, and then you get more productive class discussion."

Teaching excellence doesn't end with the recruitment process. Instead, it requires continued collaboration, along with an openness to feedback and a willingness to adapt.

"We want our faculty to think carefully about things like their syllabi, how they cover material, the pace of it, how classes relate one to another and build over a semester so that it's a complete course," Peecher said. "And we want them to be knowledgeable of how their courses fit into our curricula, so understanding the courses upon which your course is building."

To help achieve that level of cohesiveness, the Department of Accountancy has course coordinators and an evolving mentorship structure. Department Head Michael Donohoe, who's also a PwC Faculty Fellow, described the coordinator and new mentorship structures and the goals they support.

"Each accountancy course has a coordinator," Donohoe said. "If a faculty member is teaching a large undergraduate course, there may be two or three other faculty teaching the course as well. So we employ a very collaborative approach, which involves sharing materials and more. Faculty can still bring their unique style, interest, or nuances to it, but they have a common foundation to start with."

Along with the course coordinator program, the department now pairs new accounting faculty members with a peer who recently went through the onboarding process to help answer basic questions. They also get a more senior faculty member as their go-to person for at least one year to help support their teaching and research. After that, faculty members are encouraged to form more organic mentoring relationships over time.

"Ultimately, the goal is for each faculty member to self-identify their long-term mentor," Donohoe said.

Faculty members aren't alone in their effort to create cohesive and effective learning experiences for students. The Gies Teaching and Learning department collaborates with faculty regularly.

"What we do is help the faculty to be able to be the most that they can be," said Tawnya Means, Assistant Dean for Educational Innovation and Chief Learning Officer. "Especially with the large scale of the courses that we have, it would be really overwhelming for the faculty to do it completely on their own."

The Gies Teaching and Learning department helps create new courses, certificates, videos, credentials, and other learning materials – taking them from the imagination stage to the delivery stage and all the steps in between. The team also helps structure courses in ways that help alleviate test anxiety and make classes more effective.

"It's great to have access to experts who specialize in helping faculty be better teachers," Donohoe said. "Sometimes, it's about delivery of the material, and sometimes it's just about the organization, the way that you approach the material."

Faculty and the Gies Teaching and Learning team, along with other Gies Business staff, all work together to help give learners a valuable experience.

"We really want the instructors to care about their students' learning," Peecher said. "You'll see that the longer you're around Gies."

Instructors like Fisher demonstrate that care on a regular basis. And although he's always searching for ways to deliver a better learning experience, Fisher takes pride in his accolade.

"Honestly, it means a lot," Fisher said. "I hope it means the students are enjoying the class, having a great learning experience, learning the content, and are challenged."