Apr 3, 2023 Business Administration Faculty Research in Education
Strange brew: Why negative branding is fueling the craft beer industry
Why are beers with seemingly unappealing names like Road Slush, Zombie Dust, and Atomic Torpedo fueling the rapid growth of the craft brewery industry?
New research from Gies College of Business professor Olga Khessina finds that in taprooms, bars, and backyards across the country negative branding resonates more with consumers of craft beer than positive ones -- as measured by consumer product reviews and ratings.
"Craft breweries changed the rules. They turned marketing principles upside down," said Khessina, associate professor of business administration and director of graduate studies at Gies. "Most marketers believe you need a product to have a name that projects positive emotions to get consumers to buy it. But our research shows that the opposite is true."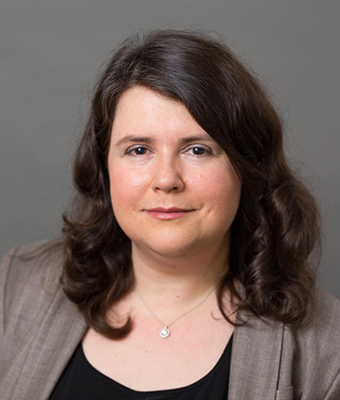 Khessina (right) co-authored the research paper, "Bottled Up or Poured Out: How Product Name Emotions Affect Appeal and Authenticity in the Market for Craft Beer" with J. Cameron Verhaal from Tulane University and Stanislav D. Dobrev from the University of Wisconsin-Milwaukee. The paper was published in Strategy Science.
"We found that firms with products that project negative emotions are viewed as authentic rebels who sincerely care about their consumers, as opposed to mass producers that they juxtapose themselves to," said Khessina, who explained she is interested in exploring the dynamics of craft markets, like chocolate, cheese, and beer because these product categories were almost nonexistent in the US even 30 years ago.
"At first everybody thought these small companies wouldn't have much influence. But mainstream markets grow slowly or not at all, and craft markets grow at an amazing rate," said Khessina, an organizational sociologist who joined Gies in 2016. "When you aggregate craft and emerging beer brands, they're making a dent in mass production sales."
According to the Brewers Association, in 2021 the overall beer category grew 1% while craft beer grew 7.9%. They report craft beer has a 13% share or $6.8 billion of the US beer market. To put this growth in perspective, in 2011 there were zero taprooms and 1.4 million micro-breweries in the U.S. and by 2021 those numbers had grown to 2 million taprooms and 4.5 million micro-breweries. As The Atlantic summed up in its overview of the market, "craft beer is the strangest, happiest economic story in America."
But Khessina says that it's no accident that the success of these sometimes strangely named breweries and products comes from abandoning conventional branding principles.
"People really like small craft players because they think that they make their products not for money, but out of love for the product that they want to share. By contrast, consumers believe big companies focus on profits, not quality," she said.
The consolidation of major beer brands feeds into that narrative. Over 30 years, 48 major brewers joined to form two super-brewer behemoths: Anheuser-Busch InBev and MillerCoors. As the number of national brands shrunk, home brewers started experimenting with unrepresented tastes and variety, and appealed to consumers wanting to support small, regional businesses.
The micro-brewery industry took off in the 1980s and 1990s with entrants such as Indiana-based 3 Floyds (Zombie Dust and Gumball Head), and Cleveland-based Great Lakes Brewing, which leans into negative imagery and emotions for its beers named for sunken ships (Edmund Fitzgerald) and vampires (Nosferatu). The quintessential bad boy brewery, Chicago's Revolution Brewing, opened in 2010 with its Anti-Hero IPA, which helped to catapult it to the No. 1 brewery in Illinois.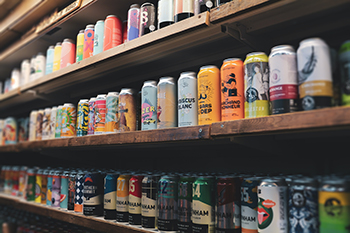 "Names like these convey you're sincere and not trying to manipulate the consumer. These brands come off as very real and authentic," said Khessina, who said her research has focused on beer because it was one of the first industries to collect data on the craft segment as an industry.
To assess branding trends during craft brewing's biggest growth spirt, Khessina used data from the online beer review website BeerAdvocate from its inception in 1996 to 2012. Craft breweries are defined by making less than 6 million barrels a year. By comparison, the entire US beer industry sold more than 200 million barrels in 2021. Khessina's research controlled for a great number of factors including the state, website age, brewery ownership status, beer style, and reviewer experience. She found that beers with names that project negative emotions are more appealing to customers and are perceived as more authentic, while beers with names projecting positive emotions are devalued by consumers.
"I'm fascinated with product and organizational names because, objectively speaking, they shouldn't affect whether people like something more or less. But a name has a strong effect that's independent of objective quality," said Khessina.
But not every successful craft brewery embraces solely negatively charged names and emotions. For example, Chicago's Off-Color Brewing mixes names like Apex Predator with silly ones such as Critters and Beer for Lightweights. Others stick to descriptive names such as Michelin-starred Moody Tongue's Peeled Grapefruit Pilsner.
This works, according to Khessina, because these companies still manage to broadcast their craft authenticity by using playful and irreverent names to demonstrate their ideological opposition to mass producers.
"Our research found that it's not so much about the taste of the product but about the underlying ideology of authenticity and opposition to mass producers," said Khessina. "These dynamics may also work in other craft markets."
Khessina would like to look next at the impact of product design and labels of craft beer and artisanal chocolate. She said future research may find that success may be less about branding from a specific producer and more about the persuasive demonstration of belonging to the craft category.
"I value working at Gies for the cultural environment focused on conducting original research," Khessina. "I also appreciate the top-notch research structure that includes not only financial support and access to various data sources, but also and very importantly, encouraging and helpful colleagues."