Mar 30, 2023 Accountancy Alumni Business Administration Faculty Finance Student
New campus facility named in honor of Gies alumnus Steven Wymer
Gies College of Business Dean Jeffrey R. Brown announced today that the College's new building will be named Steven S. Wymer Hall in recognition of a generous gift from alumnus Steven Wymer. The University of Illinois Board of Trustees approved the naming on March 30, 2023. The building will serve residential and online students as well as faculty and staff from Gies Business and other schools and colleges on campus.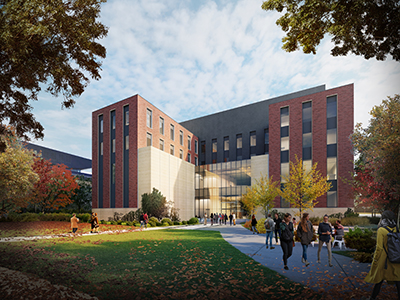 Wymer, a 1985 Gies alumnus with a bachelor's in accounting, is a portfolio manager in the Equity and High-Income division at Fidelity Investments. A native of nearby Danville, Ill., he has been the manager of Fidelity Growth Company Fund since 1997. Prior to joining Fidelity, Wymer worked as a small business consultant at Deloitte Haskins & Sells. Known as one of the nation's leading experts in investment management, he received Morningstar's 2017 Domestic-Stock Fund Manager of the Year Award for Fidelity Growth Company Fund. After graduating from Gies, Wymer went on to earn his MBA from the University of Chicago. He lives in the Boston area with his family.

"This gift is a continued return on investment to Gies from the partial academic scholarship I received as a student," Wymer said. "The building modernizes the College's infrastructure to help pursue its evolving approach to in-person, hybrid, and online education and research. The goal is to create an environment where students, faculty, and staff can do their best work."

Steven S. Wymer Hall is a partnership between Gies Business and the University of Illinois Urbana-Champaign to provide an advanced, high-tech facility serving both on-campus and online learners. The nearly 100,000-square-foot building, which will stand on Gregory Drive between the Business Instructional Facility and Huff Hall, will support Gies' foundational commitments to access, innovation, excellence, inclusion, and engagement. Additional studio space and recording capabilities will serve the College and University's rapidly growing online programs, enabling Gies and other units on campus to expand access and creating a highly engaging learning environment. Expanded collaborative space for experiential learning and group work will foster a culture of inclusion and innovation. New, larger classrooms – which will also be shared with other units on campus – will support projected enrollment growth, ensuring Gies can expand life-changing access to education. And additional office space for Gies faculty and support staff will ensure a collaborative environment where colleagues can continue their tradition of excellence.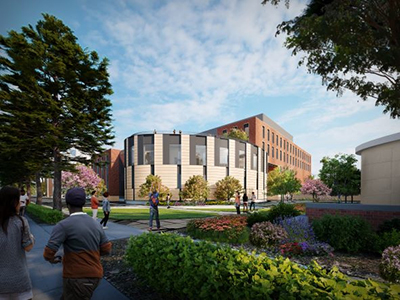 A groundbreaking ceremony for the four-story building will be held on April 14, 2023, and construction is expected to be completed by December 2024.
"I am ecstatic to have such generous support from Steve and all the alumni and friends who have helped make this important project possible," said Jeffrey R. Brown, Josef and Margot Lakonishok Professor in Business and Dean. "Steve has supported our College for several years in ways that directly align with our purpose of shaping purposeful leaders through life-changing access to education, research, and innovation. He sees the impact we are making in the lives of learners around the world, and his willingness to generously invest in the future of learning speaks volumes about his love for this College and his passion for our students, faculty, and staff."
Steven S. Wymer Hall will include a 200-seat auditorium, two 80-seat classrooms, and four 60-seat classrooms. In support of the College's online programs, the new building will include two 40'x40' sound stages, five studios, and six control booths – all of which will be shared spaces with schools and colleges on south campus. Eighteen additional meeting and collaborative rooms will provide expanded space for experiential learning, group work, and meetings with recruiters. Finally, 84 new office spaces will support the College's growing faculty and staff.

The new building is expected to cost approximately $105 million in total and will be constructed using a public-private partnership. Because the classrooms and online studios will be available to other schools and colleges on the south end of campus, the University is contributing approximately 40 percent of the total cost. Gies Business will contribute approximately 60 percent, inclusive of the fundraising goal of $50 million.
NOTE: All renderings are © LMN Architects