Feb 20, 2023 Alumni Business Administration
With iMBA, Moody earns long-sought-after promotion
Surrounded by books and a career she loved, Kira Marie Moody (MBA '22), a youth services librarian in Salt Lake City, was feeling a bit stuck. She had been working at a library since she was 16 after taking a part-time job covering the children's desk.
Twenty years into her career, she longed for a larger, more managerial role. Yet she found herself in a competitive prospect pool for the highly-sought-after project management jobs in her industry.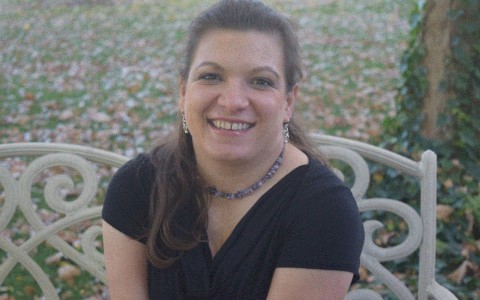 "I was looking for a way to differentiate myself from candidates who had the same amount of experience. I was getting to final interviews—I knew I was close—but ultimately kept getting passed over," said Moody, who became intent on creating her own next big break.
Moody began exploring graduate-level online learning opportunities in 2019. She had already earned a bachelor's degree in English from the University of Utah and a master's degree in library and information science from Texas Woman's University. To test the waters, Moody started taking graduate classes online through Coursera in January 2020 and found a certificate in Strategic Leadership and Management offered by Gies College of Business.
"I was looking for cost-friendly accredited programs—and Gies consistently ranks high," said Moody. "I also did a lot of research on the learning environment of these programs. Gies didn't have a reputation for a cut-throat atmosphere, so I was ready to evaluate if this was the right educational pathway for me to succeed."
Moody thrived in the graduate-level classes that make up the certificate. Once she had that in hand, she took the next step to look for online MBA programs where she could continue to work full-time in her current job.
"I didn't have the greatest GPA or a business background, but the application process at Gies was a welcoming one that valued my work experience," said Moody.
In fall 2020, Moody applied to the iMBA program as a Performance-Based Admissions Track (PAT) student, which is an alternative pathway for learners who are concerned about their application profile. Initially, Moody focused on leadership courses, but as she learned more about all aspects of business, she shifted to project management. She ultimately decided to pursue the iMBA's Entrepreneurship and Strategic Innovation specialization.
"I liked how students collaborated in breakout sessions to evaluate how an industry could be improved. I found myself looking at things from a creative perspective," said Moody. "I also enjoyed the two courses taught by Professor Fataneh Taghaboni-Dutta. She made some of the toughest classes in the program become two of the most rewarding in terms of my growth in knowledge."
As she worked her way through the program, she began applying for new positions within her library network.
"I could see my progression right away. I was answering questions much differently than I would have a few months before. I applied concepts like power/interest grid to explain how I could better manage a project," said Moody, who completed her MBA in August 2022, becoming one of the 61% of iMBA students who earned a promotion, job offer, or new position.
"By my last semester, I had landed a highly competitive IT project manager position in Salt Lake County," said Moody, who added she is applying the leadership, communication, and management skills she learned to this next chapter in her career.
"This promotion sets me on a career path where I will continue to take on more responsibility and oversee increasingly complex projects," said Moody. "Thanks to the Gies iMBA, I now have a good foundation for how to articulate the organization's needs, streamline processes, an articulate a vision for the best way forward."