Feb 14, 2023 Accountancy Alumni Business Administration Faculty Finance Research in Education Student
Gies Business Research Lab adds biometric sensors, expands research capabilities
Gies College of Business is creating an unparalleled opportunity to use innovative biometrics to advance the College's human subjects research and enrich its data collection. Thanks to investments in the Gies Business Research Lab (GBRL) and the creation of a BioLab, the College now has the capabilities to use biometrics in business research, expanding the scope of insights faculty and doctoral students can gain.
"It puts Gies in the company of the top behavioral research business schools in the world and has quickly becoming a differentiator as PhD candidates evaluate programs," said lab coordinator Jennifer Themanson.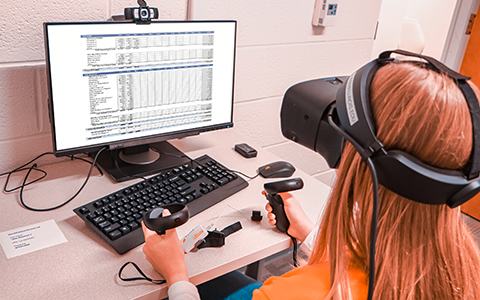 Launched in January, the BioLab is funded through the GBRL by a generous alumnus, who provided an anonymous $1M research grant. The lab offers access to real-time measurement from three unique iMotion biometric sensors: eye-tracking, facial coding, and galvanic skin response (GSR). The investment also supports upgraded computers, software licensing, and dedicated lab space in Wohlers Hall.
Gies Assistant Professor of Accountancy Spencer Anderson is one of the first behavioral researchers to take advantage of the BioLab's biometrics data collection. He is using eye-tracking to better understand how individual investors navigate a 10-K, an annual report that gives a comprehensive overview of a public company's business and financial condition.
"The SEC has spent decades trying to get public companies to provide relevant, faithfully representative information. In this era of misinformation, the 10-K is one of the few areas that's reliable and trustworthy. Yet people don't use it because of the packaging," said Anderson.
"We wanted to better understand what investors care about most," he added. "The goal is to be able to advise companies on how to create a better product out of a form that hasn't changed since the 1980s. We want to explore how to develop a 2.0 version of the 10-K, looking specifically at how a navigation bar could improve an investor's experience."
Anderson explained the biometric technology allows researchers to examine how people process information in a way that's accurate and unobtrusive. Instead of relying on study participants to self-report their impressions of a 100-page 10-K document, eye-tracking takes 60 to 200 images per second of what they are looking at on the screen, then analyzes its meaning.
"You can see where a respondent spent the most time, what key phrases and images they homed in on or comprehended quickly, and what they don't react to or skip. It's much more accurate than self-reporting after the fact," said Anderson.
"Traditionally, research used archival data accessible on the web or self-reporting through questionnaires and surveys. Behavioral research is more immediate," said Themanson. "It focuses on a participant's thoughts, ideas, and perceptions and is used in a wide range of business subjects including auditing, administration, management, and marketing. We gather input and information, which then informs how we think about training future professionals."
Themanson is also working with faculty on two projects in addition to Anderson's work. Initially, she surveyed the College's 50-plus behavioral researchers to prioritize their needs and chose the iMotion solution because it's a stackable program that easily expands.
In addition to assessing current BioLab needs, Themanson has grown the current pool of study participants by incorporating iDegree students – learners in the College's online MBA, master's in accounting, and master's in management programs – which adds a global point of view from learners with more professional and managerial experience. Today, the GBRL currently has filled more than 11,000 time slots with undergraduate and residential graduate students and more than 7,000 time slots with iDegree learners. The lab also has access to a Gies Business Research Panel, which includes 1,700 alumni.
"Working on research creates a different connection to the University. Students can see first-hand the type of research and work faculty do—expanding the learning experience beyond the classroom. Alumni and professionals can also help the College create new knowledge by sharing their time and insights," said Themanson, who prior to joining Gies, spent nine years coordinating the multi-year STRONG Kids Research Program with the Family Resiliency Center. Themanson also worked in facilities management and began her U of I career in academic advising for the College of Applied Health Sciences, which has a strong focus on applied research.
"I'm excited by the College's commitment to supporting behavioral research and its infrastructure. The BioLab creates opportunities to add more creativity and apply more out-of-the-box thinking to behavioral research. Having this scope of support and infrastructure creates an ideal environment for the top behavioral research minds in the world," said Themanson.
Themanson encourages behavioral researchers to reach out early in the process of developing a study to explore what's feasible and how to structure it for approval from the Institutional Review Board. The BioLab can help with study design and remove any frustration from working with a new software platform. She also asks the College's behavioral researchers to explore how the BioLab can enhance their current studies and add value with biometrics data.
"There's a misperception that there's a big void between academics and practice," said Anderson. "Biometrics like eye tracking bridges that gap, putting information in the hands of those who make decisions. The funding from the anonymous donor means that we can spend our time on the research, instead of chasing funding from external grants. This kind of unparalleled support helps reduce the friction associated with conducting human research. I can't think of any other accounting departments that have something like this. It's a game-changer."
The GRBL is available at no additional cost to Gies faculty and PhD students working on behavioral and experimental projects. Studies range in size from 30 to 300 participants. Located at Wohlers Hall, it includes the GBRL Biosensor Suite and two additional larger labs. For more information, contact Themanson at busresearchlab@illinois.edu.