Jan 23, 2023 Accountancy Alumni Business Administration Finance Student
iVenture Accelerator innovators simplify city, campus ADA compliance
DeepWalk Co-founder and CEO Brandon Yates' goal is that no one get tripped up when they walk on a college campus or navigate a city.
He and co-founder Anshul Shah have created a scanning app that makes it inexpensive and easy for universities and municipalities to keep their sidewalks compliant with American Disability Act (ADA) guidelines. The idea grew out of a first-year project for a required engineering course.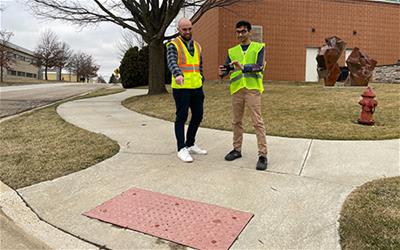 "Originally we focused on sidewalk ramps, but quickly determined there was value in the sidewalk in between," said Yates, who graduated with a BS in civil and environmental engineering. Shah, his co-founder, earned a physics degree.
After first attending a student founder's group and participating in the campus-wide COZAD New Venture Challenge, the duo turned to the iVenture Accelerator program that's powered by Gies College of Business. Launched in 2015, the iVenture Accelerator is a system-wide and cross-campus program housed in Gies College of Business that provides opportunities for student-led startups to create economic and social value. iVenture supports student entrepreneurs with knowledge, funding, and access to the world-class University of Illinois resources and alumni. Since its inception, iVenture has incubated 100 ventures led by 250 student entrepreneurs who have gone on to raise more than $100 million for their work, created over 300 full-time jobs, and won various accolades across the globe.
"iVenture Accelerator is a safe and helpful place to make a lot of mistakes quickly. It taught us to create a fundraising pitch before we would have on our own," said Yates. "DeepWalk matches well with cities of 40,000 to 100,000 people and we partner with engineering firms on larger projects, which expands the pool of potential clients significantly."
Since then, DeepWalk completed a pilot program with Danville, IL, and secured contracts with Peoria, IL, University of Maryland, and Western Michigan University. The company is on track to be in 15 cities and universities by May 2023.
DeepWalk's business model is simple and responsive: With it, civil engineers and city workers charged with keeping sidewalks safe can automate ADA sidewalk inspections by renting preprogrammed smartphones that capture where repairs need to be made. DeepWalk trains users on the device, which generates reports and action items for up to 20 miles of sidewalks annually. Upgraded versions of the app include a self-evaluation template, community mapping data, and the ability to generate automated work orders and 3D site visit models.
"Cities usually have a good idea of how many miles of sidewalk they have, which means they can get a cost estimate in a couple of minutes," said Yates, who estimates that a project's cost averages $20,000 per year across a five-year period.
The demand for safe sidewalks is expected to grow as the elderly population increases. A US mobility study estimates more than 6.8 million Americans use assistive devices to help them navigate their day; this includes wheelchairs, scooters, walkers, crutches, and canes.
For the Danville project, the community wanted to prioritize sidewalk accessibility improvements to support the city's growth. It also was preparing to update its federally required ADA Transition Plan, which requires the inspection of 146 miles of sidewalk and 1,697 sidewalk curb ramps. The DeepWalk app automatically delivered the project deliverables, which were presented to the city's public works department within 14 days.
"ADA compliance seemed like an insurmountable task and with DeepWalk I see a clear, budget-friendly way forward," said Sam Cole, Danville City Engineer. "We plan on integrating the action plan recommendations into next year's budget and are interested in a much larger project to update our ADA Transition Plan."
Yates said his experience in iVenture was critical to creating a business strategy that would appeal to cities like Danville. They spoke to dozens of city engineers to get feedback on their needs before spending two years building out the project.
Today, DeepWalk is headquartered in EnterpriseWorks, a technology business incubator at Research Park that encourages young innovators to think big. Yates said he and Shah have set their sights on growing the company beyond its current client base.
"In the long run, we want to be an automatic measurement company. You'll be able to scan a sidewalk or road or building with a drone and measure it. The possibilities are endless."