Jan 9, 2023 Business Administration Student
King excelling on track while pursuing master's in management
Gies College of Business master's in management (MSM) student Kashief King had never set foot in the United States, let alone visited campus, when he arrived as a freshman on the University of Illinois' track and field team. Now, nearly five years after that day, King is on the verge of graduating with two degrees, a Big Ten championship, and one of the greatest honors a citizen of Trinidad & Tobago can earn.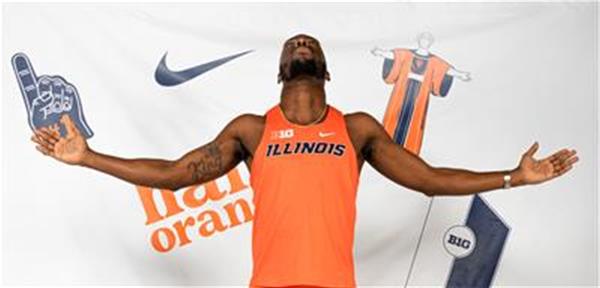 King was recently awarded the Hummingbird Medal, which is the third-highest award given by the nation of Trinidad & Tobago. King was recognized for running on the 4x400m relay team that won the gold medal at the Commonwealth Games in England. King, who has battled through multiple injuries and lost seasons, never gave up on himself and was proud to represent both his native nation and the University of Illinois.
"I was injured my entire senior year of high school, and the University of Illinois took a chance on me," he said. "I've been through two knee surgeries and a lost year due to COVID, but I worked hard, stayed focused on my rehab, and it paid off at the end of this season. We knew going into the Commonwealth Games that we had a really good chance to win it all, and it was a great feeling. I knew I wasn't just representing my country, but also the U of I. This is my training home."
And part of that feeling of home is the relationship King quickly built with Gies College of Business professor Hayden Noel, who is also a native of Trinidad and Tobago and who shares the same hometown. Noel recognized King as an up-and-coming star after watching him hold off a heavily favored Jamaican runner in the last leg of the 4x400m relay at the 2017 Carifta Games, a U20 regional track meet amongst all Caribbean nations. Noel reached out to King's coach and the coaches at Illinois, and he suggested they take a look at King. Illinois eventually offered him a scholarship. King committed and enrolled, sight unseen, and immediately developed a bond with Noel.
"When I got here, Professor Noel really took me under his wing," said King. "He invited me to his house for meals. If I'm homesick, I can always give him a call. I could always go to him with any questions, and he is always willing to help. I'm thankful that he was able to put me in a situation where I could do better in life. My relationship with him is unbreakable."
"From the moment I first met Kashief – or 'King' as they call him in Trinidad, he was always so respectful. I could tell he was a man of great character," Noel said. "We have a small, but vibrant Caribbean community here at Illinois, and Kashief came to multiple get togethers. He fit right in. And from an academic perspective, we have talked a lot about which courses he should take and how those courses align with his career choices.
Now, after earning a bachelor's degree in communications, King is following Noel's guidance and working toward his MSM at Gies College of Business. The MSM is a one-year program, offered both residentially and online, that teaches fundamental business and management skills and also offers learners the chance to specialize in areas like data analytics, marketing, management, and more. Like many MSM students, King didn't have a particular career goal in mind, but he saw the value in a general management education.
"I knew I had a fifth year of eligibility that I could take, and professor Noel recommended the MSM. It's really a universal degree that is applicable to so many industries. Everyone needs leaders and managers," said King. "When I am finished with track and field, I will have the managerial knowledge to manage my money, know what to invest in, and understand what types of business I can start."
And so far, his experience in the MSM program has been exactly what he had hoped for.
"The MSM program has been great," he said. "Everything we have learned is applicable to real life. I see myself using it today, and I'm not even finished yet. This program is so effective and so helpful putting us in a best situation to be better leaders and managers."