Jan 5, 2023 Accountancy Alumni Business Administration Faculty Finance Student
Gies iMBA named MBA Program of the Year by Poets&Quants
The fully online MBA from the University of Illinois' Gies College of Business has earned the coveted distinction of 2022 MBA Program of the Year by Poets&Quants, the preeminent source for information on undergraduate and graduate business education. Gies' MBA – known as the iMBA – is a full 72-credit-hour MBA offered completely online and at a price point that is almost unheard of anywhere else in the world.
Fully embracing the University of Illinois' original land-grant mission, Gies Business is committed to creating life-changing access to business education. Launched in 2016, the iMBA was the world's first fully online MBA that was designed specifically with the online learner in mind and offered at a market-shattering price. Because the iMBA is flexible and costs approximately $23K, the majority of learners can continue to work full-time without accruing the massive debt often associated with an MBA degree, which can range from $70K to $200K. In addition, there is no on-campus requirement, and learners can pay for each course individually as they take them, instead of paying for an entire semester up front.
The iMBA has grown to include more than 4,000 learners living in more than 100 countries. Course material is delivered in a way that mirrors how learners will actually use it on the job, which has helped 61 percent of iMBA students earn a promotion, job offer, or new position during their time in the program, and learner satisfaction sits at an astonishing 96 percent. In 2020, the iMBA was named Poets&Quants' #1 Biggest B-School Innovation of the Decade.

"Gies has taken a truly innovative approach to business education. You won't find another MBA program that is more affordable, more accessible, and more innovative," said John Byrne, Poets&Quants' founder and editor-in-chief. "What impresses me most is how Gies' stackable model has created different on-ramps into the degree; it's unlike any other program, and it really is the future of higher education."
"When I started looking at MBA programs, I knew with my work and family responsibilities that I would need an affordable and flexible program," said Condola King, a 2022 graduate. "I knew the iMBA would be an outstanding academic experience, but I hadn't anticipated how connected and engaged I would feel learning from my living room. I was taught by exceptional faculty and surrounded by enthusiastic and amazing people who supported me."
In an unprecedented move, Gies made its entire portfolio of online offerings compatible – or "stackable" – with each other, allowing learners to start small and add to their educational journey piece by piece without retaking courses or paying unnecessary tuition. In Fall 2022, the College announced that graduates of its online Master of Science in Management (iMSM) and Master of Science in Accountancy (iMSA) can apply the 36 hours it takes to complete those degrees toward the 72-credit-hour MBA degree. Gies also launched three online graduate certificates in Digital Marketing, Accounting Data Analytics, and Strategic Leadership & Management. Learners can complete each of these in four-to-eight months, earning credit that can be applied toward any of its three online degree programs.
"This year, we once again took business education to the next level by making our entire portfolio of courses stackable," said Jeffrey R. Brown, Josef and Margot Lakonishok Professor in Business and dean at Gies. "Learners can start by taking a single online course, add others to complete a certificate, and ultimately turn that certificate into one or more business degrees. This creates flexibility on an unprecedented scale."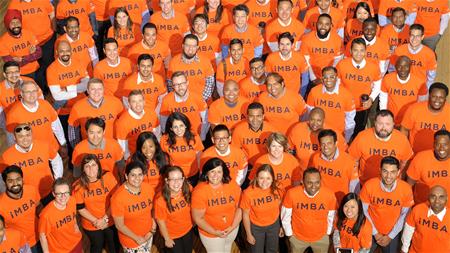 "We're serving up the degree in manageable bits, creating certificates for core areas and opening multiple pathways into an MBA," said Brooke Elliott, EY Professor and executive associate dean at Gies. "This highly flexible approach is proving to be incredibly attractive to people who may not be ready to commit to a graduate business degree but want the specialized knowledge that can advance their career, and it creates multiple convenient entryways into graduate education."
The Gies iMBA also offers a number of opportunities to gain additional experience through optional micro-immersions in the US and week-long global immersions that focus on business and economics in host countries.
"Our goal is to break down any and all barriers to learning skills to become a successful business leader," Brown said. "Where you live, how much money is in your bank account, or what undergraduate degree you earned shouldn't matter. We're proud that Gies levels the playing field for anyone who's ready to work hard and work with our world-class faculty and curious learners from the smallest towns and biggest cities around the world."