Nov 30, 2022 Accountancy Alumni Business Administration Faculty Finance Student
Entrepreneurs partner with iVenture to improve building accessibility
Entrepreneur Pierre Paul is partnering with the University of Illinois' iVenture Accelerator to create a device called Push™ that can turn any handicap-accessible door into an automatic door via a personal button.
"Diversity and inclusion can never be the afterthought of innovation," said Paul, a Bradley University alumnus, who is part of the Illinois Innovation Network, a collaborative effort by the state's public universities to drive innovation and economic growth. "Push's ultimate goal is to give autonomy, freedom, and power to individuals who are traditionally left out of the conversation during the innovative process."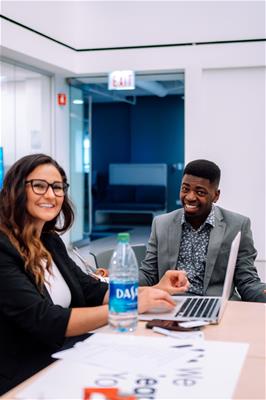 Paul and his partner Bethanie Couri, who works at Bradley University and is completing her Ed.D. in Education Policy and Organizational Leadership, found the iVenture opportunity as they were exploring accelerator programs. They were impressed with its resources and talent, and they were encouraged that for more than 30 years, the university has been at the forefront of the movement to improve conditions and access for students with disabilities.
The Push™ button is about the size of a watch face that can be attached to wheelchairs, crutches, and other mobility devices and is compatible with American Disability Act (ADA) compliant doors.
Push™ grew out of a company called We Hear You® (WHY®) that Paul founded in 2020 to create technology solutions for the deaf community. When an ASL touchpad prototype was met with lukewarm response, they strengthened their relationship with the deaf community and refined the product to make it better. They had learned from the successes and pitfalls of tech giants in the space like Google and Microsoft in an attempt to create something in tune with the community's needs.
"We've gained a better understanding of the intentionality behind how you craft your mission, your vision, the idea of organization, and the value of a board of directors," said Paul. "We now get evaluation and critiques from people inside of the same ecosystem but in completely different markets."
Added Couri, "This project is working well because we are integrating the community we serve into the design and creation process and feel confident in the technology we are developing. The iVenture team has taught us a great deal about authentic leadership, and how doing well in business can allow you to do good for others."
Launched in 2015, the iVenture Accelerator is a system-wide and cross-campus program housed in Gies College of Business that provides opportunities for student-led startups to create economic and social value. iVenture supports student entrepreneurs with knowledge, funding, and access to the world-class University of Illinois resources and alumni. Since its inception, iVenture has incubated 100 ventures led by 250 student entrepreneurs who have gone on to raise more than $100 million for their work, created over 300 full-time jobs, and won various accolades across the globe. Push™ is part of a pilot program this year, in which iVenture is supporting a team from the broader Illinois Innovation Network for the first time.
Paul attributes the birth of his company to his difficult upbringing, which was set in a carousel of homes from Brazil to Guyana to Ohio. His family moved frequently as his parents strived for a better education so they could provide their children a better way of life. He immigrated from Portuguese-speaking countries during the xenophobic peak following 9/11 and felt culturally isolated and hyper-criticized by his peers at a young age. Paul said he and his family had thick accents which led to racist responses, including an erroneous accusation of stealing at a neighborhood grocery store.
"I feel like for most of my childhood, our perspectives and our words were less valid," said Paul, who channeled his personal battle with inequity to create space for people who feel different, lack community, and are deemed voiceless.
Especially for a student venture, launching Push™ has been no easy feat. Paul and Couri say they appreciate the support and direction iVenture has provided.
"Responsiveness goes a long way, especially as a startup company that's used to rejection. It's very special to feel as though they are prioritizing your time and your value as much as you're prioritizing theirs," said Paul.
The duo's next steps are to solidify deals with larger institutions and small businesses across the state. Stay tuned to their path by following @wehearyou on social media, or connect with Pierre Paul directly on Twitter, Instagram, LinkedIn, and TikTok.