Nov 2, 2022 Accountancy Alumni Business Administration Faculty Finance Giving Stories Student
Gies Business receives $25 million gift in support of new facility
The University of Illinois' Gies College of Business has received a landmark $25 million gift in support of the new South Campus Center for Interdisciplinary Learning (SCCIL), a building that will serve undergraduate and graduate students – both residential and online – as well as faculty and staff. The gift was given by an alum, who currently wishes to remain anonymous, with the anticipation that the building will eventually be named by the alum.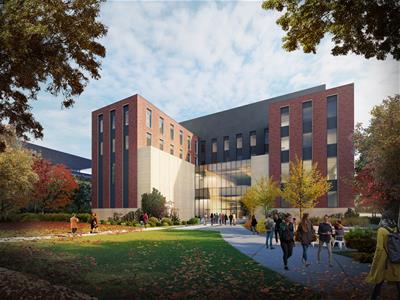 SCCIL is a partnership between Gies Business and campus to provide an advanced, high-tech facility serving both on-campus and online learners. SCCIL will provide additional studio space and recording capabilities to serve online courses and programs throughout campus; offer expanded collaborative space for experiential learning and group work; support enrollment growth with additional and much-needed larger classroom spaces for the south campus; and provide needed office space for Gies faculty and support staff that have increased to serve growing online programs.
The four-story building will be just under 100,000 square feet and will stand on Gregory Drive between the Business Instructional Facility and Huff Hall. Construction will begin in spring 2023 and is expected to be completed by early 2025.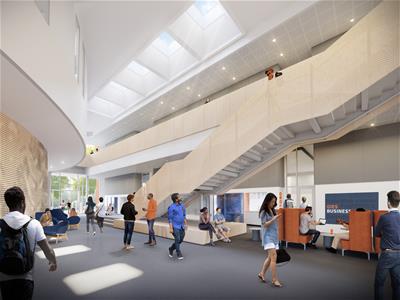 "The support we receive from our alumni and friends is incredible, and they're helping us building a momentum unlike anything we've seen in the history of this College," said Jeffrey R. Brown, Josef and Margot Lakonishok Professor in Business and Dean. "We have bold goals, and our alumni have supported us every step of the way. I'm so grateful for this latest $25 million gift for our new building. It helps ensure that we're able to serve learners in new and exciting ways through every step of their educational journey."
SCCIL will include a 200-seat auditorium, two 80-seat classrooms, and four 60-seat classrooms. In support of the College's rapidly growing online programs, the new building will include two 40'x40' sound stages, five blackbox studios, and six control booths. 18 additional meeting and collaborative rooms will provide expanded space for experiential learning, group work, and meetings with recruiters. Finally, 84 new office spaces will support the College's growing faculty and staff.
The new building is expected to cost approximately $105 million in total and will be constructed using a public-private partnership. Because it will be a shared building between various schools and colleges on the south end of campus, fundraising for the project will be shared. Gies Business will raise approximately $50 million – or half – of the total cost.

NOTE: All renderings are © LMN Architects