Oct 27, 2022 Accountancy Faculty Finance
Evans charting a new course via the iMSA
When Margaret Evans attended the University of Illinois as an undergraduate in the 80s, she had no clue what she wanted to do. "I actually started in accounting and changed my major a few dozen times," joked Evans. "I was one of those who was completely undecided." Eventually, she charted her own unique course, completing a bachelor's in geography while also earning her flight instructor's ratings and corporate pilot certificate in the university's aviation program. With her training complete, she spent one semester teaching ground school. And then, life happened.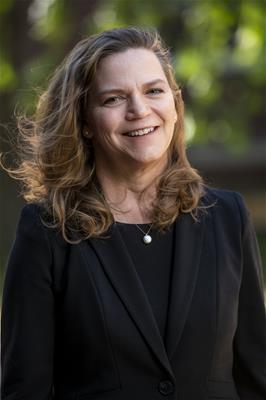 Evans, who was expecting her first child, decided to put her career ambitions on hold and focus on being a mom. It wasn't until many years later, when the kids were grown, that she rekindled her interest in learning. And her timing couldn't have been better, because a new program was just taking flight at Gies that seemed tailor-made for her.
Launched in 2017, the online Master of Science in Accountancy program offers an incredible opportunity for non-accounting majors to pivot their careers in as little as 12 months. This unique program allows learners like Evans to earn a master's in accounting, led by the same instructors who've made Gies one of the top three schools in the country for graduate accounting. Evans was one of the first to benefit from that program, which not only gave her a degree but also an exciting new career at her alma mater.
"I graduated in December of 2018 and started as a graduate teaching assistant in 2019, working with two different courses, Accounting Analysis I (ACCY 501) and Accounting Analysis II (ACCY 502). And I just really enjoyed it," says Evans. This fall, she'll be teaching her own section of ACCY 501 with on-campus Master of Science in Finance students, which will be a little different for her, since most of her work has been in the iMSA program where learners are typically more mid-career professionals. "This will be more like the typical, fifth-year graduate students on campus," says Evans, who looks forward to the challenge.
One of the things that Evans has enjoyed most about her time at Gies is getting to know the students. Over the years, she's taught seven different courses, covering everything from financial accounting and taxes to ethics and infonomics. And that's given her the opportunity to know students in a way that isn't always possible for faculty who specialize in one particular field.
"This spring, I had students graduating who I've had in four of five classes, which is very special," says Evans. "It was great to see them learn and know they accomplished something important, even though I think there were many times when they had their doubts." Evans is particularly excited to see students like those transform as they master difficult topics and gain the skills to pursue their own exciting careers.
The iMSA has a particularly impressive track record in that regard. Graduates of the program saw an average 16% pay increase. "It's a very rigorous program," says Evans. But it's also flexible, allowing students to pursue a graduate degree remotely. "I think it's very helpful for learners who are interested in a master's degree, because it allows them to do it from anywhere. We have learners from all over the world, and they don't have to move to get a degree from the U of I."
As one of its early beneficiaries, Evans says she hopes the program continues to thrive. "When I started, there were about 35 in the beginning cohort," remembers Evans. "Now the same class has over a hundred students. It's grown a lot, and to see that has been terrific."