Oct 14, 2022 Accountancy Faculty
Turning tomorrow's accountants into agents of positive change
If you've bought a bag of chips in-flight on United Airlines in the last decade, then your life has been impacted by Ed Rogowski. That's because the Gies alumnus and new adjunct professor played a key role in creating the cashless cabin, ushering in a bold new era in the skies.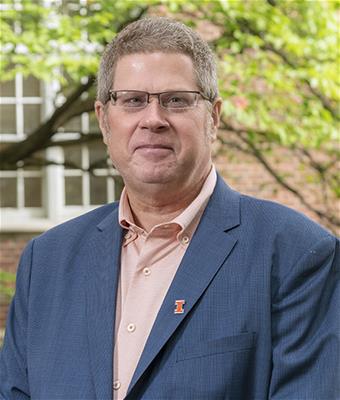 Like all good solutions, it began with a simple problem. "I came up with the idea as a way to stem some of the losses we were having with in-flight purchases," says Rogowski, who served as United's chief audit executive before leaving in 2010. "The CFO and the audit committee were all concerned about the theft that was going on, and the rumors of theft — not only from a product perspective, but from the cash perspective. And I just said off-hand one day, the only way you're going to stop that is to get cash off the airplanes."
They agreed. And soon, Rogowski was spearheading the company's effort to make that happen, spawning a seismic shift in the airline industry. All because Rogowski didn't just see the problem; he envisioned solutions. And he had the skill and the drive to implement them, transforming his role as an auditor into an agent of positive change.
"I always asked questions, trying to figure out ways to improve the business and not just to leave it as is." That was true when he spearheaded the cashless cabin at United. And it was also true just a few years later when he transformed one of the industry's largest credit unions, Alliant Credit Union, into a financial organization that operated exclusively online.
"In 2016, we went fully digital," remembers Rogowski, who served as the chairman of the board at Alliant Credit Union during that pivotal transformation. "We were leading the industry from a cost perspective because we were essentially branchless by that time and we didn't have cash at the credit union either." When COVID hit, that strategy proved to be a major advantage, as competitors struggled to emulate what Alliant had already achieved. It also led to a slew of accolades from Money Magazine, Kiplinger's, Nerd Wallet and others, who all declared it the best credit union in the country. Looking back, says Rogowski, "We were really ahead of the game."
Like many Illinois graduates in the 1980s, Rogowski got his start at Arthur Andersen before serving as the chief audit executive at three Fortune 500 companies: United, Hospira, and Anixter International — a multi-billion-dollar global distributor of network, security and communication components. After the latter was acquired by Wesco, he began his latest venture, serving as the CAE and VP of internal audit and risk management for Covetrus, a leader in the veterinarian technology and services.
"They hired me because I had a track record for being able to come in and help companies develop efficient processes in a non-threatening way," says Rogowski, who's had a lot of experience doing that in the companies where he's worked. That includes United, where he created an entire international accounting system to meet a pressing need.
"As I was going out to international locations, I noticed they were failing audits because we were trying to force domestic processes and systems onto them," says Rogowski. "So, part of my career was running international accounting for a while."
Wherever he has worked, Rogowski maintained ties to Gies, often recruiting new employees from the school's exceptional pool of graduates. In 2019, that role became more direct when he accepted a position on the Gies Business Alumni Association board. More recently, he's also tried his hand at course design, helping accounting professor Justin Leiby create a risk management module for graduate-level accounting.
"I loved working with Justin and really enjoyed the interaction with the students," says Rogowski. "It was a fantastic experience, and it really opened my eyes up to the idea of teaching there."
This fall, the alum returned to campus to teach ACCY 405, a core course related to the theoretics of auditing. Rogowski believes internal audit is in a unique position of being a valued business partner to management and can have a strategic seat at the table as internal audit demonstrates value through its' work. He says he's excited to help students understand what that looks like in the real world, with practical lessons drawn from his personal experience.
He also says he's excited about teaching at a school whose philosophy meshes so well with his own. "I've always used my career to be transformational and try to drive positive change, and I think that's exactly what they're trying to do at Gies," says Rogowski. "They're building a very positive brand and moving toward the future. And I want to be part of that."