Oct 7, 2022 Accountancy Faculty
Distinguished PwC partner Andy Dahle returns to teach at his alma mater
When Andy Dahle first set foot on campus at the University of Illinois in 1979, he had no idea where the future would lead. Or how he was going to get there. He had left high school thinking he might study chemistry or computer science, and entered college pre-law. But during his sophomore year, he discovered accounting. And a whole new world opened up.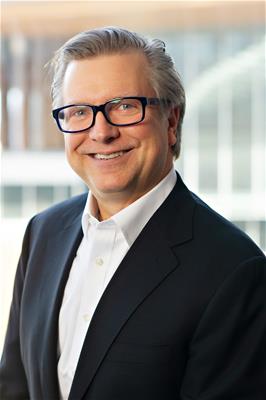 "Whether you grew up in Illinois or somewhere else around the world, the language of business is accountancy," says Dahle. "So, I began to learn this and I thought 'Wow, this is where I want to be.'"
It was the start of an exceptional career that would take him around the globe – from Israel to China and into the inner sanctums of some of largest companies in the world – all while keeping his feet firmly planted in his native Chicago.
"I've traveled around three million miles, mostly for work, but my permanent residence is still 15 minutes from the 900-square-foot ranch house with the gravel driveway that I grew up in," says Dahle. According to him, it was a typical middle class home. The family wasn't affluent, but they had enough to send him to the University of Illinois. And that paved the way for an amazing career.
After completing both a bachelor's and master's at Gies College of Business, he took a job at Arthur Andersen in Chicago on the advice of a family friend who said he could always move on after a couple years. He stayed for 13 years, eventually moving from external auditing into the world of internal audits.
"I wasn't sure I wanted to do that, because I really liked what I was doing," says Dahle, "But it really changed my life." According to Dahle, that shift in focus made him more creative, more management-focused and also more service-oriented. It also taught the incoming Gies clinical assistant professor one of many lessons he hopes to share with future students. "When a door opens, stepping through it can lead to great things."
It wasn't the last time he would explore the other side of the threshold. In 1997, Dahle was offered a job at Coopers and Lybrand, and decided to make the leap. In hindsight, it may have been the best move he ever made. In a few short years, Arthur Andersen would vanish from the scene, while Coopers would merge with Price Waterhouse, forming one of the largest accounting and consulting firms in the world.
The merger took place on July 1, 1998, and Dahle became a partner that same day, setting the stage for a long and exciting career. Since that time, he's worked with many Fortune 100 companies, including a number of the largest companies in Illinois, as well as fascinating, fast-changing, fast-growth companies. And with each new client came new opportunities for growth.
"I learned more through these experiences about business, about people as well as the world." said Dahle, who says that a career with accounting and consulting firms is essentially paid learning. "Every project is different. Every client is different. Every culture is different." Dahle absorbed it all. And now he's returning to his alma mater to share the lessons he's learned.
Dahle will be teaching ACCY 304 and 405. He's especially excited about the former, which focuses on control systems — a topic in which he's very well versed. During his time at PwC, Dahle helped grow that part of the company's practice from scratch into a billion-dollar business, and he watched as the companies who embraced a healthy risk management and controls culture became very successful.
Now he is hoping to help students embrace the tools and concepts that will be essential for their careers. He's not leaving the profession he loves; he's just stepping through the next open door. And he can't wait for his next journey to begin.
"I'm so blessed and lucky to be coming back to a place that totally changed my life," says Dahle. "What I started at the U of I took me all over the world, and now I get to finish this thing at one of my favorite places on the planet."