Sep 20, 2022 Accountancy Faculty Research in Education
Accounting 2.0 — Exploring the real impact of artificial intelligence
Three years into her job as an auditor, Andrea Rozario started thinking there had to be a better way to do things. "I sort of realized that the way we audited financial statements and generated financials for management worked, but I started to think about the bigger picture and whether there was a way to do things more efficiently, and if those efficiencies could improve the quality of those reports."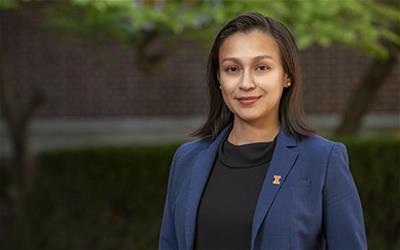 It was the start of a journey that would lead to a PhD in accounting information systems at the Rutgers Business School in Newark, New Jersey, and a growing body of research focused on the technology transforming the accounting world.
"Companies have been adopting artificial intelligence quite pervasively for the last four years or so, but we don't know much about the actual benefits or consequences," says Rozario, whose recent work investigated AI's effect on the accuracy of management earnings forecasts. "We've all read surveys by McKinsey or Stanford, but we don't really know if these expected benefits are being realized, so this is essentially what we tried to determine through our research."
By reviewing the accuracy of forecasts of non-technology firms that implemented AI in their operations from 2014 to 2018, Rozario and her co-author showed that the new technology not only led to more accurate management earnings forecasts, but also profoundly improved forecast accuracy over longer horizons. "Another interesting aspect of this study is that we find the forecasts are accurate, even when there is more uncertainty as to what would be the firm's financial performance." This research seems to indicate that there's clearly value to be gained from the use of advanced technology in accounting, including machine learning.
One of the downsides of machine learning, however, is that it tends to produce results based on complex algorithms that aren't easily observed, creating a black box effect. Another study explores the use of Shapley-additive explanations, or SHAP, to better understand ML used to predict financial statement fraud. "What SHAP does is it obtains explanations, and it tells us what variables contributed to the algorithm classifying firms as financial manipulators," explains Rozario. "We can then take these explanations and form an index, which we believe can be used as a predictor of financial fraud."
Rozario recently brought her experience in data analytics to Gies, where she teaches a graduate-level course in accounting. ACCY 504 gives students an introduction to conceptual and applied material in auditing. According to Rozario, it also provides an ideal venue to discuss cryptocurrency and other technological developments impacting the field. Of course, not all of the students taking the course will become auditors. "And that's fine," says Rozario. "But my hope is that they can at least appreciate the art of auditing and — more importantly — where the accounting profession is going. It's a very exciting time."
Rozario joins Gies from the Stevens Institute of Technology School of Business in Hoboken New Jersey, where she also taught auditing and accounting. Until then, she had spent most of her life in the Garden State. "I'm pretty much a Jersey girl," laughed Rozario, who's lived in New Jersey ever since moving there from Ecuador with her family when she was just 11. It's possible that she'd still be there if an opportunity hadn't opened at Gies that seemed too good to pass by.
"I decided to apply because I wanted to make a bigger impact in terms of research and teaching, and Gies is the place to do that," says Rozario, citing the school's world-renowned faculty and reputation as one of the top accounting programs in the country. The new Gies assistant professor says she was also influenced by one or her research partners, Nerissa Brown, who is also the associate dean of graduate programs at Gies. "From our conversations about the school, she described the environment as very collegial and supportive, and so far, that's been my experience," says Rozario. "I feel very honored to join the accountancy department here and the community in general at Gies."