Apr 20, 2022 Business Administration Student
iMBA student leads platform design of first business school blockchain
Gies College of Business MBA student Saroja Hanasoge has found herself at the center of the blockchain revolution in higher education. She is leading the design of iBlock, the first layer 2 blockchain platform built by a top business school. Its purpose is to meet the growing demand for deep understanding of blockchain applications and the desire to disrupt the marketplace with new ones.
Blockchain is a digital public ledger that records online transactions and is the core technology for cryptocurrencies like bitcoin and non-fungible tokens (NFT), which certify ownership of objects like art or music.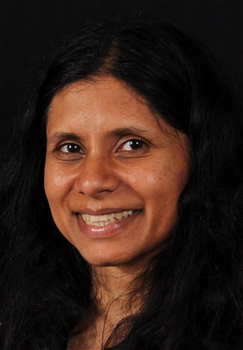 Hanasoge said she didn't know much about blockchain when – as a Gies MBA student – she saw an invitation to join this project at the Disruption Lab. She saw it as an opportunity to understand the rigorous technical underpinnings of what blockchain can do.
"It was a steep learning curve and very exhilarating," said Hanasoge, who has worked as a program manager at technology companies. "The Disruption Lab at Gies gave me the creative freedom to build software without restrictions and with access to the latest technologies. Basically, they empowered the heck out of me. I've never experienced anything like the camaraderie and the culture of the Disruption Lab and the mentorship of Illinois Business Consulting Director Jake Kinsey."
These types of hands-on learning opportunities are available to all Gies students, whether they're physically on campus or – like Hanasoge – are more than 1,000 miles away. Hanasoge lives in Boston and holds bachelor's degrees in electrical engineering and biochemistry, and was attracted to Gies' fully online MBA program because of the depth and diversity of its students.
"I've always felt that emerging and even existing technologies are not being used to their fullest extent with under-represented groups," said Hanasoge, "I wanted to start thinking about this from multiple angles with an entrepreneurial focus. And Gies was the best place to do this as it is one of the Top 10 business schools producing startup cofounders."
Hanasoge's goal was to make blockchain secure and easy to use. Last summer, she was the architect of iBlock's proof of work platform and in the fall developed the blockchain's proof of authority framework. It is a closed, scalable blockchain solution built on Ethereum, a well-regarded decentralized public platform.
"What really impresses me about Saroja is her tenacity and attitude. She brought so much energy and enthusiasm to the team and was willing to tackle some of the hardest problems. She never gave up," said Jacob Kinsey, director of Illinois Business Consulting, the largest student-run, professionally managed consulting organization in the US. "Having access to iMBA students like Saroja, who have life experience and maturity, really adds a depth to the team."
Hanasoge's passion for this project has deep roots. After earning her first engineering degree she went to Afghanistan and Pakistan to figure out how technology could help women in developing nations but was challenged by roadblocks to build impactful infrastructure. At the time, she saw that many had risked their lives to take computer classes. Because of the 2021 Taliban takeover, women began burning their degrees to avoid detection, while she was working on this project.
"Blockchain gives you the ability to secure credentials and anonymize financial transactions in an encrypted fashion which is critical for many women around the world," said Hanasoge. "Before pursuing my MBA, I didn't have a mechanism where I could effect change. Through the iMBA program, I'm learning to identify a problem and ten different practical ways to solve it along with the resources to support it. There is this great sense of opportunity."
"iBlock gives Gies College of Business and the University of Illinois the foundational tools to integrate blockchain principles into every level of higher education and research," said Kinsey. "It's everything blockchain should be – scalable, interoperable, secure, and easy to use."
Hanasoge ultimately hopes to use her MBA degree to build disruptive solutions for under-represented groups. She said that the Gies iMBA program has added momentum to her purpose and helped her think holistically about technology.
"I'm looking forward to continuing to work on projects like iBlock where I can create practical ways to improve society through technology. Everybody's talking about blockchain and now I'm figuring out how to build solutions that have impact at scale," said Hanasoge. "It's especially important to me to simplify the jargon and usage complexity so that communities at Gies, the University, and around the world can be empowered to innovate."