Apr 19, 2022 Accountancy Alumni Finance
Wilson, Thurman honored with 2022 Gies alumni awards
Two Gies College of Business alumni have been honored by the Gies Business Alumni Association for their contributions to business and to the College. Virginia (Gina) Wilson '76 was chosen for the Distinguished Alumnus Award, and Cedric D. Thurman '87, is this year's recipient of the Alumni Appreciation Award. Their awards will be presented at the 2022 Gies College of Business Spring Luncheon on Friday, April 29, in Chicago. Register to attend at go.gies.illinois.edu/SL2022.
Distinguished Alumnus Award
Virginia Wilson '76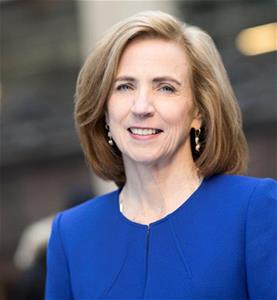 Virginia (Gina) Wilson retired from her role as senior executive vice president and chief financial officer of TIAA in 2019 and currently serves as an independent director of two NYSE-listed companies.
She joined TIAA in 2010 as it began execution of a strategic growth initiative that include a series of large and small acquisitions (Nuveen, Everbank, Henderson Global Real Estate) and a variety of new business ventures. She supervised a broad portfolio of responsibilities including finance, treasury, tax, actuarial, general account investments and corporate services, as well as leading the firm's Risk Management committee and serving as executive sponsor of its Diversity and Inclusion programs.
Prior to joining TIAA, Gina was CFO of Wyndham Worldwide when it spun out of Avis Budget Group, where she had been Chief Accounting Officer. Her prior roles included senior finance positions at MetLife and Transamerica's Life Insurance operations. Her first position following her graduation from the University of Illinois was with Deloitte's Los Angeles office where she became a partner in its Assurance practice serving a wide variety of clients.
She has been a trustee of Catholic Charities of New York for over 15 years. She received both her bachelor's degree in accountancy and her master of accounting science from Gies Business in 1976.


Alumni Appreciation Award
Cedric D. Thurman '87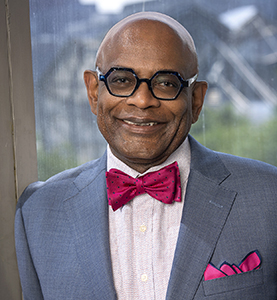 Cedric D. Thurman is executive vice president/chief diversity officer at the Federal Home Loan Bank of Chicago (FHLBC), where he is responsible for shaping the culture to provide opportunities for all employees and help FHLBC be a catalyst for change for its member institutions and the communities they serve. His team is also responsible for providing financing and direct funding tools to support members' affordable housing and economic development initiatives. Prior to joining FHLBC, Cedric served as the US Head of Inclusion at BMO Harris Bank after having spent 14 years at JLL in office and retail brokerage capacities, as well as leading HR strategy for the Americas region and serving as JLL's first Chief Diversity Officer.
He is active in Chicago's civic community, serving on the boards of many community organizations. He also serves on the Dean's Business Council in Gies Business. He has been recognized for his professional accomplishments by Crain's Chicago Business as a 2021 Notable Executive in Diversity, Equity, and Inclusion; Chicago United 2021 Business Leader of Color; Diversity MBA Magazine as one of the Top 100 Executives Under 50; Savoy Magazine as one of the Top Diversity Executives; Kellogg School of Management's Black Management Association as Alumnus of the Year; Chicago Defender Men of Excellence; and UCAN Diversity Advocate of the Year. He has twice been recognized in Who's Who in Black Chicago.
He holds an MBA in management strategy and marketing from Northwestern University's Kellogg School of Management and a BS in Finance from Gies College of Business.