Apr 7, 2022 Business Administration Finance Student
Gies junior creates digital platform for farmers in India
Gies College of Business junior Dhanashri Mandhani isn't waiting until she graduates to make a difference for her home in India. Mandhani recognized a major problem facing millions of farmers in that country, and she's getting a head start on bringing value to a society that needs it.
Mandhani's company, Salam Kisan, is creating a website and mobile app that will serve the entire agricultural industry in India. Agriculture there is fragmented and decentralized; that means the millions of small farmers often lack access to information about best practices, what crops would grow best in their area, how to access markets, and how to test soils.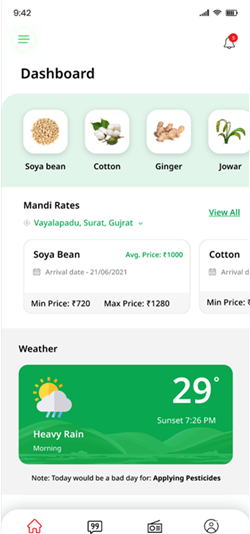 "All over India, soil and water conditions vary widely across different areas," said Mandhani, a finance and marketing major at Gies. "There's no 'one way' to farm. Data illiteracy and lack of access are also major problems. Many small farmers don't know how to access the information they need, and they're not as tech savvy as many others."
Mandhani is no stranger to the agriculture industry, which accounts for almost 20 percent of the nation's GDP. Rice, wheat, cotton, sugarcane, and potatoes are some of the most commonly grown crops. Her father is an industrialist in Mumbia, and she spent many hours working at his company, which makes fertilizers and pesticides. She immediately noticed the problems and set out to do something about it.
She started Salam Kisan in the summer of 2021 – in between her sophomore and junior years at Gies – with a goal of digitizing farm management techniques. Her app not only shows farmers how to use the products they have, but it also connects them with suppliers in the area who can provide them with the products they need.
"We can even connect farmers to potential customers who could buy produce from them," she said. "The price for commodities changes every day, so we'd be following these live market rate patterns and matching them with the best rate they can get in their area."
Mandhani is aiming to pilot the website and app in May. It will be completely free to use and will cover farm management techniques for more than 60 crops – from sowing to pre-seed preparation to harvest. She has developed an artificial intelligence-based crop calendar that pulls data from land mapping, geolocation, and weather. Depending on the variety of seed a farmer uses, Salam Kisan could send them notifications on each next step they take. She has also teamed up with agriculture newspapers, who could provide important news updates for the site.
Salam Kisan will connect farmers with suppliers in their region – everything from seeds to fertilizers to pesticides to farm equipment. The company has also partnered with banks and lenders. "In India, a huge part of financing is not regulated," Mandhani said. "Many times, they just borrow money from people around them."
Mandhani isn't doing this alone. She is leaning on the expertise of her family, which has decades of experience in this field. She has also recruited a team to work on this project in Mumbai, while she is working toward a dual degree in finance and marketing at Gies. And her experience at Gies – and the network that comes with it – has already paid big dividends in her journey to bring immense value to those in her home country.
"Dean Brown has helped make so many introductions for me. It has opened a ton of doors," she said. "He has introduced me to venture capitalists and other entrepreneurs, who have been so kind and introduced me to more people. Every class I've taken at Gies has given me something that I can apply directly. I'm always connecting the course material to my business."
"My ultimate goal is for this to become an entire 360-degree platform for farmers from pre-planting to post-harvest," she added. "We're still growing and bringing in new ideas. It's an exciting time!"