Dec 13, 2021 Accountancy Alumni Business Administration Faculty Finance Student
Elliott, Davis recognized for contributions to educational diversity
In recognition of their efforts to advance diversity in education, Gies College of Business Associate Dean Brooke Elliott and alumna Dr. Airies Davis (MBA '13) were awarded the Educational Diversity Impact Award at the 15th annual Egretha Awards gala held December 4 at the Museum of Contemporary Art in Chicago.
Elliott, the EY Distinguished Professor in Accounting, serves as associate dean overseeing the strategy of the College's online programs. Over the last five years, Gies' online programs have grown to more than 5,000 learners thanks to their unique combination of quality, flexibility, and affordability. Gies ground-breaking $22.5K online MBA (iMBA), master's in accounting (iMSA), and master's in management (iMSM) were intentionally designed to break down financial and geographic barriers to graduate education, enabling learners from all backgrounds and locations to achieve their goals. Professor Denise Lewin Loyd, Gies' associate dean for equity, accepted the award on behalf of the College.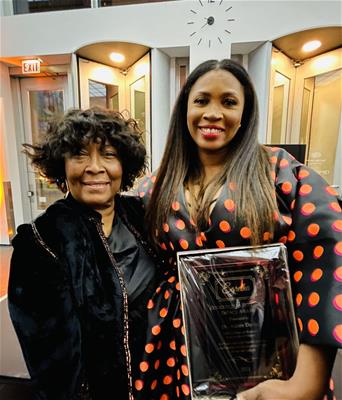 Dr. Airies Davis (right) is the founder of WorkforcEQi, which specializes in solving complex multicultural workforce challenges through emotionally intelligent mindset shifts and wellbeing initiatives. She is also a columnist for AWBC Media magazine, which focuses on the needs of African American businesswomen.
"Your work is not complete unless you are in service to others," Davis said. "It's imperative to support cultures and communities that may not have the same equitable access to resources, which is why winning the Egretha Award is so meaningful to me."
"We're committed to creating equal access to higher education for women of color who are looking to grow in their jobs or make a career pivot. Gies is honored to be recognized for making business education flexible and affordable," said Elliott. In addition to its three successful online graduate degrees, Gies is also expanding its online certificate program in subjects such as data analytics, project management and UX design.
The Egretha Award recognizes the achievements of women who serve as role models for African American women around the world. It's named after Egretha Hamilton in recognition of her extensive community and philanthropic outreach. This year's winners also included NIH's Dr. Kizzmekia Corbett, voting rights activist Stacey Abrams, Illinois Department of Public Health Director Dr. Ngozi O. Ezike, and FedEx CEO Ramona Hood.
"Being amongst fellow women thought leaders is such a vital part of personal growth and career development, especially entrepreneurs. I appreciate having a voice and the ability to commune with like-minded individuals," Davis added. "The common connection with Gies is that we both advocate for women in business."
This fall, Davis moderated an AWBC Conference panel, called "ListenUp SHEro's: Let's Discuss Post Pandemic Emotional Drivers Impacting Our Career Pathways," which featured Elliott and Gies alumna Maribel Chacón-Torres (MBA '13), co-owner of CTB Group and Chacon Homes in Chicago. It was an outgrowth from the response to a column Davis wrote for AWBC on the subject.