Nov 8, 2021 Business Administration Faculty
Gies honors Matthew Kraatz with the Merle H. and Virginia Downs Boren Professorship
Colleagues call Matthew Kraatz a role model for slaying institutional dragons, and one of his students likens him to a Jedi who doesn't shy away from the dark side of humanity but seeks to understand it.
To acknowledge his service to the University of Illinois and his expertise in the field of organizational behavior, Gies College of Business celebrated the investiture of Kraatz as the Merle H. and Virginia Downs Boren Professor of Business Administration on September 24, 2021.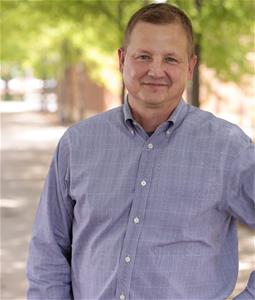 Kraatz joined the Gies Business faculty in 1994, earning a promotion to full professor in 2015. He is also associate director of the Illinois Strategic Organizations Initiative, which promotes interdisciplinary research in strategic organizational design and management.
"Matt has had a transformational impact on institutional theory. His work changed the field. Some of his papers are seminal pieces in developing an alternative view of the effects of institutional norms on organizations from sources of uniformity to sources of institutional pluralism," said Carlos Torelli, head of Gies' Department of Business Administration and the James F. Towey Faculty Fellow.
Added Boston College Professor Michael Pratt, a research partner and former member of the Gies faculty: "Matt's views are that organizations are not rigid and the human beings that inhabit them are not passive objects but have agency and are often purposeful."
Throughout his career, Kraatz has studied a range of organizational phenomena, including change, learning, reputation, legitimacy, pluralism, and leadership.
"We are very proud to honor Matthew's scholarship in the field of organizational behavior and his contributions to the University of Illinois. He has never shied away from a challenge or from an opportunity to advance his scholarship," said Jeffrey R. Brown, the Josef and Margot Lakonishok Professor of Business and Dean of Gies College of Business. "He brings a tremendous passion for his work and for our students. He's a recognized national leader in his field, and he's an exceptional leader within our College."
In accepting this honor, Kraatz spoke about the influence of values on organizations and their leaders.
"Corporations are not just businesses. They are also moral orders – social entities that pursue worthy purposes and places where people seek and find their personal values," said Kraatz. "This has always been true, but it is especially obvious in the here and now. One implication is that leaders have two different roles to play. They need to be stewards of a value-infused institution as well as calculative strategists. You can cheat on either one of these roles, and messing up the values piece is especially bad."
A recognized thought leader, Kraatz has lectured at universities across the world and published in his field's top journals. He has also served on the editorial boards of these publications and held many professional leadership roles. In 2011, he was elected as chair of the Academy of Management's 4,000-member Organization and Management Theory Division.
A committed and enthusiastic educator, Kraatz has taught in the College's undergraduate, master's, and doctoral programs. His excellence has been recognized with the College's Award for Excellence in Graduate Teaching (2009), and Professor of the Year honors in the executive and full-time MBA programs (2010, 2013).
"Matt has pushed the frontiers of new thinking in how governance, transparency, and values influence the success of organizations. He has shared that knowledge with generations of students who can put it into practice as they move into the professional world," said William Bernhard, Executive Vice Provost for Academic Affairs.
Kraatz earned his BS in psychology from Illinois College in 1989, and his MS and PhD in organizational behavior from Northwestern University's Kellogg Graduate School of Management in 1991 and 1994, respectively.
This professorship is made possible through a generous donation to Gies Business from the family of Merle and Virginia Downs Boren. It enables the College to fulfill its mission of pursuing excellence, innovation and accessibility in higher education.