Oct 25, 2021 Alumni Business Administration
Non-profit exec uses MBA skills to improve global food security
Gies College of Business alumnus Michael Gerba (MBA '20), a graduate of the College's fully online iMBA program, is an accountant turned Peace Corps volunteer turned social impact advocate.
"When I left the Peace Corps, I thought MBAs were only for people in finance, banking, and consulting. But when I took my first C-level position in my 30s, I wanted to round out my skills," Gerba said. "The Gies MBA has made me a better, more ambidextrous leader who understands how to tap into the diversity of team members from 36 countries. The iMBA program is built for purpose. It was made for someone like me."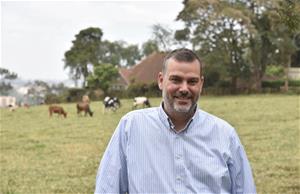 Gerba is COO of the International Livestock Research Institute (ILRI), a global non-profit based in Kenya and Ethiopia. ILRI's researchers focus on improving food and nutrition security through increased production and access to animal-source foods, stimulating economic development and poverty reduction. It also looks to increase productivity while managing the adaptation of livestock systems to climate change and mitigating the impact of livestock on the environment. He works with CEO Jimmy Smith, winner of the 2019 Madhuri and Jagdish N. Sheth International Alumni Award for Exceptional Achievement at University of Illinois Urbana-Champaign.
"Right now, because of a request from the Kenya Government we are using our labs, equipment and expert staff to sequence the entire genome of SARS-CoV-2, the virus that causes COVID19, circulating in Kenya," said Gerba. "This genomic surveillance is of the different variants emerging in Kenya's population and helps the government to ensure the right vaccines and diagnostics tests are used in the right places."
"This is a great example of our 'One Health' approach," he added. "In real-time, COVID-19 has taught us that we must consider that the health of animals, humans, and the environment are all interconnected. The transmission of diseases between animals and human is real. If you don't know the environmental aspect of it, you're not getting a full picture."
Gerba's love for business and worldview began in high school on a service-learning trip to the Dominican Republic. Upon graduating from Miami (OH) University in 1999, he joined Grant Thornton as an audit accountant.
"Three years later, my wife and I had been working 80 hours a week non-stop. We were burnt out and ready for a big life change. Then 9/11 happened. We decided to join the Peace Corps and were assigned to Nicaragua," said Gerba, who worked with small business owners to promote sustainable eco-tourism and agricultural development using principles of accounting and management. "When our time was ending, my wife and I made a pact that we'd go with whoever got the coolest job first and move there."
Gerba learned about Land O'Lakes' International Development Division at a job fair. A month later they hired him as a financial analyst and quickly promoted him to financial controller of the member-owned agribusiness cooperative. He ultimately directed program management operations and risk management teams that supported 45 USAID/USDA projects in 23 countries. Seven years later, he moved to Lima to become CFO of the International Potato Center (CIP) in Peru.
"Because I worked in non-profit research-for-development organizations for much of my career, pursuing a high-priced MBA didn't make financial sense. Growing up in Big Ten country (Ohio), working in Chicago, then around the world, I understood the cache of a business degree from the University of Illinois – and the value. The ROI made choosing the iMBA an easy one," said Gerba.
Gerba moved himself, his wife and three kids from Lima to Nairobi in between semesters and attended class from China, Ethiopia, and many places in between. He chose the iMBA's digital marketing and entrepreneurship focus area specializations.
Once at ILRI, Gerba started to immediately apply concepts from the iMBA program on a day-to-day basis as he was tapped to lead an organizational transformation process working with a large managing consulting firm and ILRI funders. He is among the 95% of iMBA students who say they are able to immediately apply what they learn in the iMBA to their work.
"Professor Geoff Love's course on managing innovation was directly applicable to the transformation underway at ILRI. I used PowerPoint slides and concepts from my Tuesday night class to present to other executive directors and the consultants the next morning," he said.
Gerba added, "The capstone class on consulting skills in problem solving, taught by Professor Ron Watkins, helped me understand how our management consultants were tackling issues so I could maximize their time and apply similar problem-solving skills to other difficult issues."
The experience he gained during the iMBA program was a big return on investment both for him personally and ILRI, through the systems and structures they implemented following their organizational transformation.
"Managing innovation is vital for a research institute like ILRI – and the concept of the ambidextrous organization from Professor Love's class motivated us to set up a new structure for our contract research group that is expecting to create close to $1M in revenue for our institute in 2021."