Oct 14, 2021 Business Administration Faculty
Torelli: From civil engineer to Gies department head
Carlos Torelli had no intention of becoming a professor.
"I was always playing with Legos and building things and wanted to be an engineer. I grew up exposed to that because my father was an administrator for Venezuela's transportation agency," said Torelli, who joined Gies College of Business in 2016 as a marketing professor.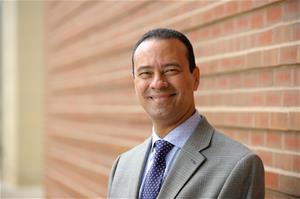 But shortly after he earned his civil engineering degree, he was promoted at one of his first jobs and started managing projects and marketing products. Wanting to learn more about running a company, he went back to school and earned two graduate business degrees and left engineering to work in consumer-packaged goods and financial services.
"I tell my students they're all going to end up managers one day, and if they want to go beyond a niche job they need to understand basic business principles," he said.
Now Torelli will apply his engineering mindset and marketing expertise to his new role as head of the Department of Business Administration at Gies.
"We have a responsibility to give back in academia at a certain point in our careers. I returned to Gies because I knew they would value my skills and my background and give me the opportunity to make an impact," said Torelli, who is also the James F. Towey Faculty Fellow at the University of Illinois Urbana-Champaign.
Torelli earned his PhD in Business Administration from Gies in 2007 and returned to campus in 2016 as a marketing professor and a Center for Professional Responsibility Faculty Fellow. He was Executive Director of Executive Education from 2017 to 2020.
Torelli will center the department's priorities on excellence, equity, and efficiency.
"The biggest driver is excellence," he said. "We will continue to look for ways to improve our reputation across the board from undergraduate to graduate degrees, from online to residential programs. This will come from creating a culture of equity where we share common goals and are pushing in the same direction.
Torelli says his obsession with efficiency is from his training as a civil engineer working in highway construction where he had few, relatively inexpensive materials to work with but costly equipment to manage.
"There is a lot we can optimize about how we operate so we can focus the time we do have on the things that matter most," he said.
Torelli notes Gies is the only Department of Business Administration amongst its peers, and it is a structure that is uncommon in the US.
"There's a big opportunity to purposefully take advantage of this and do truly interdisciplinary work that benefits our research and our students," said Torelli.
The department's majors fall into four areas: Marketing; Organizational Behavior and Business Law (OBBL); Strategy, Entrepreneurship and International Business (SEIB); and Information Systems, Operations, Supply Chain, and Analytics (IOSA). The College's core business courses, including analytics, are also bundled under Business Administration.
"In a traditional college, all of these areas would be separate departments. For us, it's natural for faculty to teach collaboratively and get different perspectives for their research," he said. "For students, everything is transparent -- we cross-list courses and make it easier to double major."
Torelli's research focuses on the impact of culture, gender, and political identity on consumer behavior.
"These three identities can easily explain 70% of our behavior. Right now, political identity is very powerful. Many discussions are framed around free will but actually it's quite the opposite. There's pressure to conform to a particular group even if it's against the personal benefits to your family," he said, adding that the department is looking to launch a multicultural insights lab to explore and better understand what shapes a person's identity.
In addition to a BE in Engineering from Andres Bello Catholic University, Torelli earned an MBE from Simon Bolivar University, an MBA from Marquette University, and joined Citibank as a marketing VP at Citibank Venezuela in 1998. He became an assistant professor of marketing at the University of Minnesota in 2007 and was promoted to associate professor in 2013. He was also a consultant to ExxonMobil from 2014 to 2017.
As Torelli begins this next chapter in his career, he says he looks forward to delivering the core pillars of Gies' brand, Business on Purpose.
"What makes me excited about this new position is combining our teaching and research to deliver an educational experience where students and faculty can follow their passions, solve real business problems and contribute to society," he said.