Sep 23, 2021 Accountancy Faculty Research in Education
Donohoe: 'Investigator DNA' key to evolution of accountancy
Professor Michael Donohoe believes the next generation of accountants will have "investigator DNA" and a strategic mindset.
"With the growing emphasis on business analytics, our students are becoming investigators who ask big questions, use data, and state of the art statistical methods to investigate those questions in a meaningful way," said Donohoe, the RC Evans Data Analytics Fellow and PwC Faculty Fellow who was recently named head of the Gies' Department of Accountancy. "There's commentary out there that suggests artificial intelligence and machine learning will eventually replace accountants. I don't subscribe to that view. But I do believe the accountant mindset needs to shift further from number crunching to strategic advice. We work hard to train our graduates to deliver an advanced level of professional service and business analysis."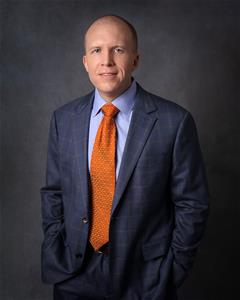 With 70% of current CPAs expected to retire in the next 15 years and fewer students taking the CPA exam, Donohoe said its especially important to maintain the department's vision to lead the world in accountancy education and thought. Widely recognized as the largest faculty in the US, Gies is ranked No. 1 in accounting research and has the nation's No. 2 graduate and No. 3 undergraduate accounting program.
"As the accounting profession and technology change around us, there is no time for complacency. We must prepare our current students for the future of the profession," he said, adding one of the department's top priorities is to prepare students for the changes to the 2024 CPA exam. For the first time the exam will include an area of specialization.
"The CPA model curriculum, recently released by the AICPA, is largely in line with the direction we've taken over the past five years. Even so, we're continuing to innovate our programs and are always looking ahead to what technologies are next so that we can embed them in our courses early. Our goal is to get more students interested in where the profession and business world are headed and then make sure they have the requisite skills for the areas they want to pursue," said Donohoe.
Donohoe said he worked with leaders in the department to develop 19 objectives that emphasize the Gies mission and has prioritized three to focus on this fall. In addition to CPA exam preparation, goals include welcoming faculty, staff, and students from a wider variety of backgrounds and leveraging Gies' online program course content to create additional nondegree credentials.
"What makes Gies Accountancy unique is that we provide big program opportunities with a little program feel. We have a very welcoming faculty-student environment. But because of our size, resources, alumni, and strong corporate partnerships the opportunities for our students are endless. They can come here to learn general and specialized skills, all through an experiential lens both inside and outside the classroom," said Donohoe, who leads a tax-themed immersive study abroad trip to the U.S. and British Virgin Islands, the only one of its kind. "Our students also benefit from a vast continuum of scholarly thought, whether it is from faculty who have been researching or working in the profession for decades or from those who are new to the professoriate with unique, fresh perspectives."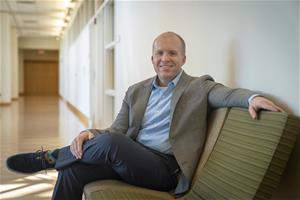 Poets&Quants recognized Donohoe as one of the nation's Top 50 undergraduate business professors in 2018, and he was acknowledged by the University of Illinois for his excellence in undergraduate teaching. He also earned the Illinois CPA Society's Outstanding Educator Award in 2018.
"My most frequent answer to students' questions is 'it depends'. I really enjoy explaining how accounting, and especially taxation, is quirky. Sometimes this answer doesn't satisfy students, but thinking deeply about uncertainty is part of the fun," said Donohoe.
Donohoe's research focuses on two areas: The role of complex financial arrangements in corporate tax avoidance and risk management, and the economic consequences of regulating corporate tax avoidance and risk management.
That's heady stuff, but not for a kid who since elementary school tracked his birthday money in a leather ledger and was later thrilled to find Quicken on the family computer. In high school, his parents encouraged him to request information about the degree; shortly thereafter 46 business school recruiting packets landed in his mailbox.
Donohoe earned his bachelor's and doctorate in accounting at the University of Florida and his master's in taxation at the University of North Florida. As a PhD student, he twice attended the Gies-hosted biennial Illinois Tax Research Symposium and was impressed by the depth and breadth of what was presented. When he began the search for his first faculty position, he checked out 10 schools, but noted his wife only wanted to visit Champaign.
Now he looks forward to planning the next symposia (his fourth) in partnership with Deloitte Tax LLP as part of his broad agenda to further Gies' reputation as a leader in accountancy research and education.