Aug 23, 2021 Alumni Business Administration Faculty
Watkins awarded University of Illinois System's Presidential Medallion
Ron Watkins has devoted much of the past two decades to the success of Gies College of Business students. The Gies MBA alumnus returned to his alma mater in 2007 to direct Illinois Business Consulting, the nation's largest professionally managed, student run consulting organization. He has earned high praise from his time teaching in the MBA program, and he rose to the rank of associate dean of strategic innovation.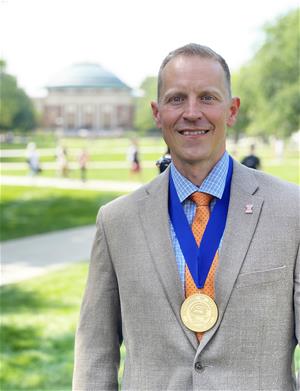 But for all the lives he has impacted, Watkins' biggest – and most important – challenge has taken place over the past two years as Managing Director of SHIELD Illinois, the group tasked with deploying the new saliva-based test for COVID-19 and the tracking system associated with it statewide. The program has been monumentally successful, and now Watkins has been awarded the University of Illinois System's highest honor, the Presidential Medallion.
Watkins is one of several key members of the teams behind SHIELD, SHIELD Illinois, Shield T3, and the vaccine clinical trials and deployment effort to receive the University of Illinois System's Presidential Medallion. The honor is in response to his extraordinary contributions and aggressive, unparalleled response to the COVID-19 pandemic.
"I am humbled beyond words to be recognized in this way, but I am not deserving," said Watkins. "This award is really representative of the SHIELD Illinois team and their dedication over the last 10 months. The reality is that hundreds of people had to come together to make this happen and work tirelessly in an uncertain environment. We now, as a team, look forward to continuing the vision of the University of Illinois to help our state open and stay open safely."
The Presidential Award and Medallion are given to recognize individuals who support and bring distinction to the University of Illinois System; enhancing and accelerating the system's ability to deliver its mission in profound ways. This award, which is bestowed solely at the discretion of the president, has not been issued since 2013.
To date, more than 60 universities and community colleges, state and federal employers, hospitals, and more than 1,200 K-12 schools statewide have implemented or are in the process of implementing this innovative testing. The SHIELD Illinois team, led by Watkins, developed a low-cost model to make this saliva-based test affordable and accessible. They set up nine labs throughout the state as well as the necessary supply chain, technology, and logistics infrastructure in less than ten months.
"The work of SHIELD Illinois is essential to the health and well-being of our state – and the work Ron and this team have done has quite literally saved lives," said Gies College of Business Dean Jeffrey Brown. "Ron has been an incredible leader for the SHIELD Illinois team. I speak for everyone here at Gies in thanking him and his dedicated team for all their great work."