May 24, 2021 2021-05 Alumni Business Administration Student
Disruption Lab, IBC project helps Gao land full-time job at Panasonic
Kelly Gao's love for learning has taken her on an exhilarating, 7,000-mile journey from mainland China to Urbana-Champaign, where her experiences with the Gies College of Business Disruption Lab led to a full-time position with Panasonic.
"I like challenges, and learning new things" said Gao, associate software engineer, data science at Panasonic. "My parents taught me to look for different sources and points of view when trying to solve problems. Their guidance has stayed with me in everything I do."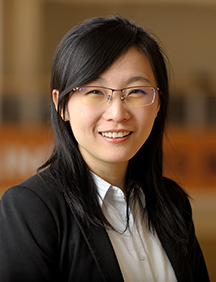 A native of China, Gao first left home a decade ago for undergraduate study at Hong Kong Baptist University. She discovered that her first task was to learn a new Chinese dialect. Cantonese is the primary spoken language in Hong Kong, and Mandarin is primary in China; while similar, the two are not mutually intelligible. So she joined a group of international students and made friends with local people. She utilized online tools, applied and obtained permanent residence in Hong Kong, and mastered the linguistic, cultural and intellectual transition.
She also picked up English, the language used by Hong Kong Baptist, while earning her bachelor's degree in human resources management. After graduation, she worked for a consulting firm, and received her first exposure to data analytics. On her own she mastered Python programming, and also had her first exposure to machine learning.
A few years later she made the transition to Urbana-Champaign. Ever practical and wanting to learn more about her new home, Gao attended a community event where she met some students and faculty from Gies' MS in Technology Management – a one-year master's degree program.
"I found everyone to be very kind, very helpful," she recalled, "and in searching online I learned that the quality of the program is very strong." She soon applied, was accepted, and enrolled.
Shortly after, she met Robert Brunner, a PhD in astrophysics and Gies' associate dean for innovation and chief disruption officer. He created and directs Gies' Disruption Lab, an initiative that brings together interdisciplinary teams of faculty and students to analyze the potential impact of disruptive technologies, identify emerging disruptions, and assess the impact they will have on work and on society.
Gao's association with Dr. Brunner proved fortuitous. Now deeply immersed in her graduate classes for data analytics and machine learning, her interests by then had turned to frontier technologies, and she was eager to explore further.
"Dr. Brunner is the reason I got a teaching assistant position," Gao said. "He referred me to a professor who was teaching a class in business analytics. And through that professor I learned about a proposal that Illinois Business Consulting (IBC) was presenting to Panasonic."
Like the Disruption Lab, IBC is a Gies initiative and the largest professionally managed, student-run consulting organization in the United States. At the time, it was putting together a team to assist Panasonic in a predictive automation project. Essentially, the team's task was to analyze large data sets to determine which components of a machine would fail over time, and when. The results would be used to improve productivity by reducing downtime and lowering costs.
"For years IBC has been the premier student consulting organization in the country," said Brunner. "Through our relationships with clients and employers, we saw a need to provide our partners with technical deliverables that leverage data, automation, and human-centered design. With the addition of the Disruption Lab, we can now partner with clients holistically to de-risk their innovation and solve some really interesting problems."
Gao applied and earned a place on the team. She completed her MS in Technology Management in December 2020, and was hired full-time by the Research Park to work in systems management at Panasonic Systems Solutions. She used that experience to land her current role as associate software engineer.
"Through the partnership with Gies, Panasonic was able to successfully build a predictive analytics tool and chatbot thanks to access to top brains working collaboratively in a research environment, thinking outside the box, and with a quick turnaround," said Ramesh Narayanan, director of software development at Panasonic Systems Solutions Company.
"When I was a student, the professor overseeing the project would communicate with Panasonic and assign tasks to students," Gao said. "Now I'm the one who's doing presentations and reports, and I'm the one who needs to determine how much information my colleagues and supervisors need, how technical that needs to be.
"I learned what I needed to get started through the opportunities my graduate studies, IBC, and the Disruption Lab provided to me," she said. "What they have in common is a high level of academic and technical preparation, but they also have a real commitment to practical application for the business world."