May 19, 2021 2021-05 Business Administration Faculty
Viswanathan wins AMA Lifetime Achievement Award
Gies College of Business Professor Emeritus Madhu Viswanathan has been awarded the 2021 Marketing & Society SIG Lifetime Achievement Award by the American Marketing Association. The honor recognizes those who make a significant contribution to research advancing the study of marketing and societal issues.
Viswanathan has authored or coauthored more than 80 journal articles, conference proceedings, books and book chapters, addressing important topics in marketing and society/public policy. He has pioneered the area of enquiry and practice-entitled subsistence marketplaces, taking a bottom-up approach to the study of the intersection of poverty and marketplaces, and developing unique synergies between research, teaching, and social initiatives. At the heart of his work is a research foundation with a strong emphasis on service to society through marketing in its broadest form.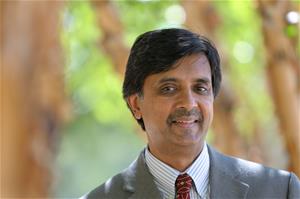 "I'm so humbled to be honored in this way," said Viswanathan. "I'm extremely grateful because there are so many people deserving of this award. Honestly, I have to pinch myself sometimes, thinking about the journey I have been on in my career. It's been eye-opening to see the problems that people face around the world, and I feel very fortunate to have hopefully helped in a very small way. The award is also a reminder of how much more work that is left to be done."
During his 29-year career at the University of Illinois and now continuing as a professor at Loyola Marymount University, Viswanathan has created an ecosystem to bring together a community of scholars, practitioners, educators, and students, through the creation of the Subsistence Marketplace Initiative. He has also led a series of biennial conferences, which began in 2006, to foster interest in understanding those who are underserved in the marketplace. His work has won the Thomas C. Kinnear/Journal of Public Policy and Marketing Award. His courses on this topic reached about a thousand students a year in residence, and many more online.
Viswanathan's work also has far-reaching impact beyond academics. Founded almost 20 years ago, his Marketplace Literacy Project is a non-profit organization that delivers marketplace literacy education to low-income individuals in subsistence marketplaces. He developed educational materials and programming that fosters education in nutrition, consumer, entrepreneurial, financial, and sustainability literacy. Through a strong emphasis on deeper understanding or know-why, marketplace literacy enables knowledge and skills and self-confidence for consumers as well as aspiring entrepreneurs. Through his organization and partners, more than 100,000 women have received this life-changing education – in India, Tanzania, Uganda, Argentina, Honduras, Mexico, and Illinois.
"All you need in order to make a difference is a platform, and that's what my department, Gies College of Business, and the University of Illinois have given me," said Viswanathan. "I've had the stability and support to pursue my research and teaching interests and the issues that were so important to me – as well as all the intangible support that has come from faculty, staff, and administration – and that has meant the world to me."