May 3, 2021 2021-05 Business Administration Faculty Research in Education
Study: Sharing course-related ideas key to online learner engagement
Online learning platforms have expanded rapidly in the wake of the COVID-19 pandemic. Coursera, the world's largest massive open online course (MOOC) platform has added more than 21 million learners since April 2020. However, learner engagement remains rather low with less than 10% completion rates and fewer than 5% of learners participating in course discussion forums.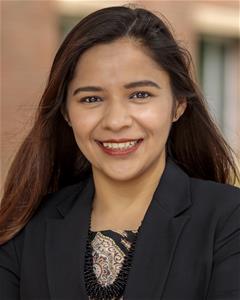 A new research project by Gies College of Business faculty Unnati Narang (left) and Aric Rindfleisch, and their co-author Manjit Yadav (Texas A&M University) proposes and empirically tests a novel approach for creating engagement in online learning platforms. Their approach builds on the simple idea that online learning environments are different than face-to-face classrooms.
"Online environments are massive. They are larger, more diverse, and can be more impersonal than a face-to-face course," said Rindfleisch, who teaches a popular Coursera MOOC on digital marketing that has accumulated nearly half a million learners. "So, we were curious to understand how typical strategies instructors use in traditional classrooms translate to the online world."
"In a physical classroom, instructors often start off the course with ice-breaking activities, such as asking learners to introduce themselves," said Narang. "Contrary to this traditional wisdom, across our two studies with 20,000 learners on Coursera, we found that asking learners to share their identity has a weaker effect than asking them to share their course-related ideas upfront in the first week of the course."
The paper, forthcoming in the Journal of Marketing Research, leverages two studies on the Coursera platform. In the first study, the authors apply text mining tools to over 12,000 discussion forum postings made by course learners and show that learners who share course-related ideas consume more course videos, complete more assessments, and perform better than learners who share their identity. In the second study, they conduct a large-scale field experiment to further understand the underlying causal relationships.
The experiment randomly assigned learners to one of three versions of a course: the first version invited learners to post ideas related to the course (i.e., idea sharing), the second version invited learners to post their introductions (i.e., identity sharing), and the third (i.e., control) contained no invitation to post. Learners asked to share course-related ideas displayed a more than 30% increase in engagement.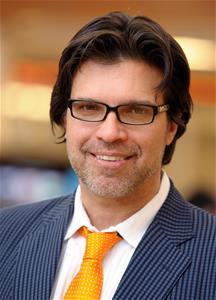 "We were surprised and wanted to understand the reasons behind this effect," explained Rindfleisch (right), the John M. Jones Professor of Marketing at Gies. "We discovered that learners who are asked to share ideas elaborate more and share longer responses. This elaboration played a key role in their subsequent engagement."
How did the researchers come up with the idea to examine this idea advantage?
"I started thinking about this ambitious project even before I started my PhD," added Narang. "I was an entrepreneur in the online education space, developing and marketing programs to a global audience of mid-career executives back in 2011 when online education was still quite new. During my PhD, I was lucky to find like-minded collaborators and partners to bring this idea to fruition. At Gies, I believe that the possibilities to study online learning are not only endless but essential to our strategic vision. We hope that this research further enhances our College's ground-breaking efforts to democratize education."
Learn more about Gies online programs.