Mar 15, 2021 2021-03 Business Administration Student
Grammy Awards finds MBA student's retro gramophone pitch perfect
Chicago-based entrepreneur Anthony Vitale used lessons learned at Gies College of Business to capture the interest of the producers of this year's Grammy Awards.
The Bluetooth Gramophone 2.0 was the star of each presenter's dressing room, customized to play their music. It is one of two new products from Vertical Grooves, Vitale's consumer electronics start-up that reimagines vintage audio design with modern technology. The second, the Floating Record Vertical Turntable, is also getting new life.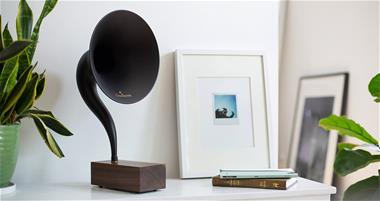 "I love the whole idea of the revenge of the analog, which is what Professor Aric Rindfleisch class, Marketing in an Analog World, is all about," said Vitale, who in 2020 purchased the patents and trademarks from Gramovox LLC, a Kickstarter-funded company that raised $1.5M and had initial success but went dormant in 2016 because of manufacturing issues. Vitale and his partner, Bryan Godber, had both been among its first investors.
Vitale's involvement came full circle when he got a cold call from the executive producer for the Grammys enthusiastically asking, "How many of either of these products can you make before March 14?" He kicked production into overdrive and charted his course to drive 42 engraved gramophones to Los Angeles.
Vitale, an iMBA student at Gies, has applied concepts from Professor Tom Parkinson's Startup to Growth class as well as all of the marketing classes he took to rethink the company and product names before expanding its offerings.
"I understood that the naming conventions weren't right. What is a floating record? People didn't understand whether they were buying a record or a turntable," he said. With that sorted out, Vitale updated the gramophone and created different price points for the turntable, from entry level ($179) up to the Superfly Badass Model ($1,999), complete with customized speakers and an added packaged-vinyl set of a buyer's choosing – anything from Pavarotti to The Grateful Dead. The gramophone's new dual-driver design allows listeners to experience any genre of music wirelessly through its horn.
Vitale's love of music runs deep. He grew up in the Bronx where kids would bring their turntables out to the playground. He DJ'd during college and as he was finishing up his business degree at Iona College in New York, he decided to travel the world as a DJ with Club Med before returning to a job on Wall Street. He also began taking film courses at night at New York University and ultimately wrote and directed the feature film, "Kiss Me, Guido," which was shown at the Sundance Film Festival and released by Paramount Pictures that same year.
He became an early entrant into reality TV and was sent to Chicago in 2012 to create a show about traders, where he met options expert Tom Sosnoff who ran Thinkorswim. But Sosnoff, flush from selling that company to TD Ameritrade, instead asked Vitale to help him pioneer an OTT/IPTV channel, tastytrade. Vitale became executive producer and director of programming for the financial news network tastytrade, which was bought by IG Group for $1B in January 2021.
Already a serial entrepreneur, Vitale says he continues to learn new strategies through classes on entrepreneurship – and even statistics (which has helped weed out any defective products).
"The idea of resurrecting a brand like Gramovox was no longer intimidating to me. It seemed doable. Professor Tom Parkinson was such a practical advisor who pointed me in the right direction," said Vitale, who recounts how he often asked questions in live iMBA sessions and attended office hours.
"The next step is to promote the packaging and the playing of vinyl albums. I think people miss album covers and the liner notes – it's an opportunity to get to know the artist better in a way that's lost now," he said. "Also, it gives the vinyl enthusiast and opportunity to see the music. I'd like to next work on how to decorate the vinyl face itself, whether it becomes a kaleidoscope or even a hologram."
Vitale says his coursework has also made him rethink what it means to run a successful company. "Not every product needs to be a technology app that makes $100M. A better way to think about it may be, 'How do you take retro things that you love – like a turntable and speaker – and monetize them for the world that we're living in today?'"