Dec 15, 2020 2020-12 Business Administration Faculty
Rindfleisch makes online digital marketing course accessible, entertaining to diverse global audience
Tahmina, a Bangladeshi MBA student, and Brian, a propane delivery driver from Utah, are two of the 450,000 diverse global learners who find Gies College of Business professor Aric Rindfleisch's approach to online learning mesmerizing.
Brian says he "loves being able to sit down and 'nerd out'" while Tahmina appreciated the "practical recommendations and insights" gained by taking "Marketing in a Digital World." An online learning veteran calls the course "without question, the most enjoyable learning experience I have ever had. It's that good."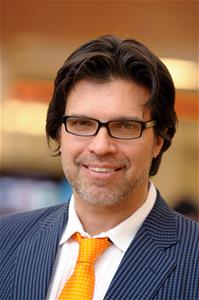 Rindfleisch teaches with a clarity and ease that draws students in and gives them the confidence to explore how a new set of digital tools is fundamentally altering a 60-year-old theory about the marketing mix. Unlike most digital marketing courses, Rindfleisch teaches strategy through the lens of today's digital drivers – the internet, the smartphone, and 3D printing. He has won several teaching honors and was named by Princeton Review as one of "The Best 300 Professors" in America.
Earlier this year, Rindfleisch rolled out a refreshed version of "Marketing in a Digital World", which was recently named one of the Top 30 most popular MOOCs of all time. Nearly half a million learners have enrolled in the course, making it the College's and University's most popular online course and the No. 1 marketing course in the world. "Marketing in a Digital World" was launched in 2015 as a MOOC course on the Cousera platform, where it is still hosted today. When it became part of the Gies' online MBA program (iMBA) in 2016, Rindfleisch layered on highly engaging synchronous components such as live sessions, office hours, and additional assignments. For example, iMBA students taking the course create a team video in which they illustrate course concepts using a real-world example. The course draws students seeking a career shift, those looking to supplement a traditional business education, and some who are simply interested in the topic.
"Digital feeds the analog. I love shooting onsite -- before COVID-19 -- so I can show students something special about Illinois, whether it's the bookstore or the State Farm Center," said Rindfleisch, John M. Jones Professor of Marketing, who joined Gies in 2012 from the University of Wisconsin-Madison.
For example, Rindfleisch introduces the concept of value by pulling bottles of bargain brand Suave and premium brand L'Oreal shampoos out of his back pockets. He shows the versatility of GoPro videos by walking around campus (pre-COVID) with the portable camera on his head. Hands-on exercises include contributing an entry to Wikipedia (user-generated content) and submitting a concept to ideas.lego.com (co-creation). An honors peer-graded assignment closes out each of the four sessions of the class.
"He is a great storyteller. He has a natural way of introducing and teaching concepts that make them easy to understand and stick in your memory even to someone without a marketing background," said Cheng Li, a senior eLearning specialist, who works with Rindfleisch on his Coursera and iMBA courses. "He makes video content in surprisingly creative ways. For example, in one of his lecture videos, he starts by smashing a juicy tomato to introduce the film and movies review aggregator Rotten Tomatoes. He creates unforgettable and fun learning moments and makes you pay attention."
Rindfleisch has also connected his course to his research by prompting students to share idea-focused content (such as examples of course concepts) versus identity-focused content (such as a learner's name and location). The results of this research have been captured in a recent working paper titled, "The 'Idea Advantage': How Content Sharing Strategies Impact Engagement in Online Learning Platforms." This research is co-authored with Professor Unnati Narang, who recently joined Gies as an assistant professor of marketing, and professor Manjit Yadav at Texas A&M. The results of this research suggest that a simple nudge that invites learners to share ideas translates into a 37% increase in course completion and an annual revenue gain as high as $4.1 million for just one course.
In addition, Rindfleisch teaches a short course on "The 3D Printing Revolution" and is developing "The Digital Marketing Revolution" which will be released in Q1 2021. He is also executive director of the Illinois MakerLab, which is the world's first business school 3D printing lab.
"We are entering a second digital revolution, shifting from innovation from data to innovation as data," Rindfleisch said. "No one's doing what we're doing. We're collaborating, getting input, and working with the fantastic video and eLearning staff to put it all together. It is exciting to be part of an innovative business education environment that isn't available elsewhere."
Sign up for one of Rindfleisch's courses through Coursera.