Jul 23, 2020 2020-07 Business Administration Student
Top Gies MBA students predict post-pandemic changes in corporate culture
Gies College of Business' newest MBAs say they'll move forward with greater intentionality into a post-pandemic business world. They expect the only constant in their careers will be change, and they see the opportunity to create and thrive in working environments that are agile, earn consumer trust, and embrace diversity.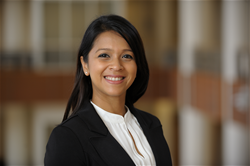 Christina Rebecca Boodoosingh (left) will pivot from a completely non-tech professional background, working at the family's petroleum transport firm in Trinidad, to lead a team of software developers at Ameren Corp., a St. Louis-based energy company. She interned at the company's innovation center at the University of Illinois Research Park.
"Business, just like everything in life, can be fickle and fleeting," she said. "My time at Gies has taught me how to be intentional about every decision I make. We're all inundated with information and tasks, and it's now more important than ever to cut through the noise and stay focused on big goals."
Working on case competitions was transformative for Boodoosingh. In addition to learning business concepts, it gave her "a profound understanding of what it's like to work with people from different cultures." She says she will make it a priority to give colleagues the tools and confidence they need to engage. "Diversity of people brings diversity of opinion, which leads to greater ideas and more holistic solutions.

Boodoosingh and her three teammates earned first place in the 24-hour Big Ten case competition (Fisher Invitational). Fellow graduate Mohit Anand found case competitions and an action learning project in Sao Paulo, Brazil, gave him a better understanding how to lead and mentor people. He led a consulting team for a non-profit organization that supported refugees. He also won several case competitions.

"I think many people around the world will realign and possibly reassess their needs and wants post-pandemic."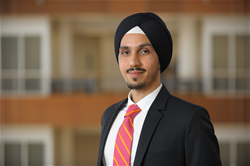 Anand (right) is returning to his family's business, New Era Engineering in Mumbai. He got his first taste of Western culture as part of a year-long Rotary International youth exchange program when he was 16. He earned bachelor's and master's degrees from Mumbai University and worked for Tata Group there before returning to the States to get his MBA.
Anand believes in "Seva" which translates to selfless service. He says Larry Gies' reminder to "find your why" inspired him to focus on the overlap of business and personal interests.
"I think many people around the world will realign and possibly reassess their needs and wants post-pandemic," Anand said. "For businesses to thrive long-term, they will have to shift their focus toward good practices, rather than just the utility of a product or service. Faith and trust in a company will define their business cycles."

The youngest person in the room
Jenn Hart also found the college's mission, Business on Purpose, centered her. Whether she was interning at a medical device company or competing in a case competition, she said it made her rethink how she spent her time, focusing on making more of an impact by doing a few things well.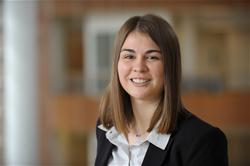 Hart (left) attended Gies College of Business immediately after earning her undergraduate degree in business administration. She was an ambassador for the UIUC Forté Foundation, which encourages women to pursue MBAs.
Hart was often the youngest person in the room, and she said action learning courses made her become more confident about leading a group older than her. She also saw how working with on diverse teams made each experience richer.
"I find it important that a company acknowledges that there is continuous progress to be made in regard to diversity," said Hart, who interned at a medical device company where she led a 50+ sales rep field update based on outdated data she recovered from one of its products.
That experience helped her secure a post-grad job as a business analyst with Heritage Operations Group, a healthcare IT company. "Now my entire focus is finding ways for my organization to continue to adapt technologically.
"This has been a transformative experience for me."
Jenn Schmidt's career journey has come full circle back to the University of Illinois, where she earned her BS in Finance in 2003. After working in property development and management for 11 years, she earned her MBA while simultaneously working full-time in the fiscal division of the School of Social Work.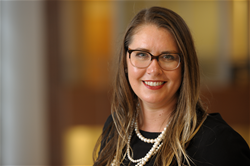 "My greatest professional achievement has been seeing my first student housing apartment deal through its full life cycle from land acquisition to development to sale," Schmidt (right) said.
Jenn's MBA peers elected her president of their cohort. She represented their voice to administration during announcement of the transition from in-person to online programs. For her, Gies' Business on Purpose mission made her confident that the faculty and staff were making intentional decisions about the college's future and how it would impact both students and alumni.
"It all goes so quickly! As part of the professional MBA program, I wish I had made more time to network with other cohorts," she said. "This has been a transformative experience for me. It has given me more confidence in my abilities, enhanced my leadership skills, and provided frameworks to build and expand in business. The pandemic has shown all of us how important it is for businesses to have dexterity and pivot when the market changes."
All four grads have wanderlust that's been put on hold until the pandemic subsides. Hart would like to head to Broadway to see a play; Boodoosingh wants to go on an African safari and live in New Zealand for a year. Schmidt wants to see a fight in Las Vegas and visit all 50 states and five US territories, and Anand, a foodie who's already visited 16 countries, wants to taste the cuisines of many more cultures.
MBA's most curious acronyms:
Boodoosingh still finds the M in CPM a mystery. CPM means Cost Per Thousand impressions.
Anand assumed DMAIC was Da'Make, but stands for Define, Measure, Analyze, Improve, and Control. It is a tool used to drive Six Sigma projects.
Hart says BATNA is both fun to say and has become a mantra she brings to every negotiation. It means best alternative to the negotiated agreement.
Schmidt managed her way through all those business acronyms without a hitch or giggle.