Jun 30, 2020 2020-06 Alumni Business Administration Faculty Student
Gies offers alternative to online MBA rankings
Gies College of Business, home to the world's most disruptive and innovative online MBA, has decided to publish a comprehensive collection of its own data and metrics of success, rather than participating in traditional online MBA rankings that are designed for different kinds of programs.
The iMBA, now in its fifth year of existence, has seen record demand and record growth – all while maintaining a 98% student satisfaction rate. You can view all of the Gies iMBA data at https://giesbusiness.illinois.edu/imba-facts.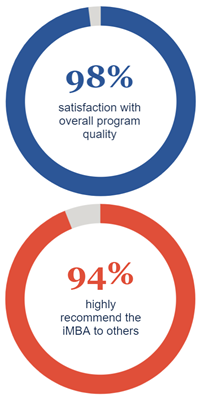 "Our mission, curriculum, and student body are fundamentally different from those of other MBA programs, and together they provide a one-of-a-kind experience for our students." said Dean Jeffrey R. Brown. "We respect all the hard work rankings publications put into developing their methodologies, but we want to be measured against our own goals, values and purpose, not what others are trying to do."
That experience has proven to be exactly what today's business students crave. The Gies Business iMBA received more than 2,500 applications for Fall 2020, a growth of more than 35% since Fall 2019. The program, which offers a career-focused curriculum, custom designed for online delivery; highly engaging online classes and group projects; and unmatched flexibility and affordability, has grown to more than 2,800 students from nearly 100 countries. Almost all of those students are working professionals with an average of 11 years of career experience, far higher than most programs.
That growth has been driven by program quality, strong career outcomes, and the value of the unparalleled network of Gies students and alumni around the world. Ninety-four percent of alumni say they would highly recommend the iMBA to a friend, and 53% of alumni received a promotion, job offer, or accepted a new position during the program – evidence of a real-time ROI that is not accounted for in traditional rankings methodologies.
Since the beginning, Gies has continuously conducted surveys and analysis of internal metrics to develop a constant feedback loop, ensuring the College is achieving its goals and students are achieving theirs. Recently, Gies made its admissions, student satisfaction, and career outcomes data public, so students and the world can draw their own conclusions about what Gies offers.
"We're seeing record demand and record enrollment. Our intense focus on what our students really need, rather than what outside rankings dictate, enables us to rapidly innovate and drive successful outcomes," said Associate Dean Brooke Elliott, who oversees the strategy for Gies' online programs. "It makes us more agile and able to adapt quickly to changing trends and needs."
The iMBA boasts a history of innovating and disrupting the industry of business education. At a breakthrough cost of approximately $22,000, the iMBA is the world's best combination of quality, flexibility, and affordability. Gies' outstanding scholars and teachers work hand-in-hand with a large team of pedagogical experts and online specialists to create a unique curriculum and experience, designed to help students engage deeply and learn how to operate and succeed in today's business environment.
The program's unique stackable structure also allows students to tailor their studies to their own goals and ongoing commitments. They can "test drive" courses through a free MOOC (massive online open course), a non-credit course, or a series of courses; if they decide later to pursue an MBA, students can apply credits and prerequisites from those courses toward their degree.
"Our university was founded on the mission of providing the highest quality education to the people of Illinois and the world, no matter their background or socioeconomic level," said Brown. "Gies Business embodies this mission to provide access to world-class business content and skills by breaking down traditional barriers of affordability and accessibility."