Jun 1, 2020 2020-06 Business Administration Faculty
Premier researcher and teacher Ocasio joining Gies Business
William Ocasio, an award-winning, world-class researcher and teacher known for his interdisciplinary approach to strategic organizational research and education, is joining Gies College of Business at the University of Illinois at Urbana-Champaign. He has been named the College's James F. Towey Professor of Business and Leadership in the Department of Business Administration.
"Professor Ocasio is a prolific and innovative scholar who will lead us as we establish Gies College of Business as a global research powerhouse at the intersection of organizational behavior and strategy," said Jeffrey R. Brown, the Josef and Margot Lakonishok Professor of Business and Dean of the College. "He will make an immediate and measurable impact on our reputation and capabilities."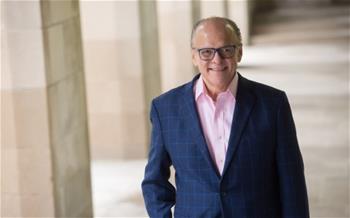 "The University of Illinois and Gies College of Business have a rich heritage in both organizational theory and strategy that continues to this day," said Ocasio. "Gies is a collaborative and mission-driven College with a respect for that history and tradition, while at the same time highlighting opportunities for innovation. These traits, along with an incredible faculty culture, are highly unusual in academia, and they also closely align with changes in the business sector. Great organizations today are creating a cultural environment that fosters collaboration among specialized knowledge workers, integrating individual expertise into a higher order collective purpose that no individual or work team could achieve on its own. That's the type of culture I'm thrilled to join at Gies."
"I'm also drawn by the energy and excitement afforded by the $150 million Gies donation," Ocasio added. "Gies is most certainly a school on the go, not only in its forward-looking restructuring of its degree offerings, but also in its commitment to faculty and research, including its emphasis on interdisciplinary work."
An internationally renowned organizational theorist and business strategy scholar, Ocasio spent the past 25 years at Northwestern University's Kellogg School of Management where he taught in their PhD, MBA, and executive programs. In a rare move, he was tenured and promoted from assistant professor to the rank of professor – skipping the associate professor rank entirely – and awarded the John L. & Helen Kellogg Professor of Management & Organizations chair at the same time. He brings decades of experience at some the world's elite business schools. He earned an MBA from Harvard University and a PhD in organizational behavior from Stanford University. Prior to joining Kellogg, he taught strategy and organization studies at Massachusetts Institute of Technology (MIT).
Throughout his career, Ocasio has been known for expanding the dialogue in his areas of study by bringing junior scholars from a wide variety of ethnic and educational backgrounds into the field and helping to launch productive careers all over the world. He also brings a rare combination of breadth and depth to his research, which he credits to his variety of academic and professional experiences. He undertook graduate studies in economics, worked in a non-profit research center, earned an MBA in strategy, worked in consulting, and served as executive director of the Governor's Economic Advisory Council in his native Puerto Rico, all before earning his PhD.
"If you look at my background, my diversity of knowledge, education, and experience is highly unusual in academia," said Ocasio, who plans to relocate to Champaign-Urbana this summer. "There's an opportunity for real change in the way research is done in field of organizations and management, and it's going to take an interdisciplinary approach to do it. The business world of 25 years ago is not the same world we live in now. It's changing fast, and in many ways, organizational research hasn't caught up. I like to find opportunities where things can be different, and Gies offers those opportunities."
"We're so excited to have Dr. Ocasio join us. Because he is such an accomplished scholar, wonderful thinker, and dedicated mentor, he will raise the productivity and impact of everyone who's already here," said Jeffrey Loewenstein, associate dean of graduate education and professor of business administration. "He will help us ask better questions and get better answers. He always looks to raise the bar and tackle the most important issues."
Professor Ocasio is recognized as the top scholar in the management subfields of organizational attention and corporate strategic agendas. His Google Scholar count is well over 18,000. He has an unparalleled reputation as a pioneering theoretical thinker, but also one who translates his scholarly work to make it accessible to leaders of global corporations. Thus, practitioners and academics alike apply his cutting-edge management scholarship. Ocasio's award-winning book, The Institutional Logics Perspective: A New Approach to Culture, Structure, and Process, co-authored by Patricia H. Thornton and Michael Lounsbury, is the most cited work in the field.
"His work has huge resonance in the field," said Cele Otnes, department head and Anthony J. Petullo Professor of Business Administration. "What makes him so unique and impressive is that he can take deep theoretically rooted issues in organizational theory and translate them into important recommendations for academics and practitioners in strategic management."
Ocasio has played a leadership role in the organization and management theory division of the Academy of Management and has been published frequently in its journals, Academy of Management Review and Academy of Management Journal. His work has also appeared in Administrative Science Quarterly, American Journal of Sociology, Industial and Corporate Change, Organization Science, Strategic Management Journal, and Strategic Organization among several others He has served on the editorial board of many of the field's most prestigious journals, and he has won major awards from three different academic societies—the American Sociological Association, Strategic Management Society, and Academy of Management—an unusual achievement.
Ocasio, who earned his BA in economics at the Universidad de Puerto Rico at Mayaguez, is a frequent speaker at symposia and conferences at top business schools around the world, including Cambridge University (Judge), Harvard Business School, University of Chicago (Booth), University of Melbourne, University of Michigan (Ross), University of Pennsylvania (Wharton), Hebrew University of Jerusalem, and INSEAD. At Gies, he will immediately begin teaching and mentoring PhD students, and he plans to eventually teach in College's online MBA (iMBA) program and online master's in management (iMSM).
"The University of Illinois has a long history of being a major innovator in management research, and the objective is to elevate that to a new level," he said. "Over the last several years, Gies has transformed into a world-class organization; the College is very strategic and values-and purpose-driven. I look forward to building on what is already a very strong school with a rich history."