May 26, 2020 2020-05 Accountancy Alumni
U of I network supporting future entrepreneurs in Chicago
The University of Illinois alumni network is flexing its muscle, and that could mean a bright future for the next generation of entrepreneurs and business leaders in Chicago.
Britney Robbins didn't major in business at Illinois, but she's made entrepreneurship her mission. Robbins is the founder and CEO of The Gray Matter Experience, an entrepreneurial experience program for high school students in Chicago. Through a 12-week series of workshops, participating students learn business concepts from entrepreneurs and professionals. The hope is that students will use that knowledge to create businesses to help impact communities on the south and west sides of the city.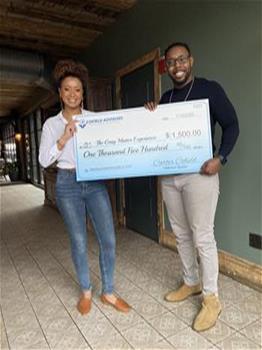 "I really have a passion for working work with youth," said Robbins, who graduated from Illinois with a degree in creative writing. "Both my parents were entrepreneurs, and I wanted to teach students the same lessons my parents taught me. I saw the economic disparity across Chicago, and I really just wanted to create a pathway for more students of color to learn about entrepreneurship."
One of the ways Gray Matter teaches students these life-changing skills is through guest speakers. One of those speakers happened to be Gies College of Business alumnus Carter Cofield (ACCY '13, MAS '14), who runs a successful financial planning business in Chicago.
"When I started my business, Cofield Advisors, Britney asked me to come speak at Gray Matter," said Cofield. "It was one of the most intelligent groups of high schoolers I've ever spoken to. I gave them some insights and tips, and to this day I never forgot how smart they were."
So when Cofield decided to begin donating five percent of all revenue from his business to various nonprofits supporting entrepreneurship, The Gray Matter Experience was first on his list. He presented a $1,500 check to Robbins' nonprofit in January, and he hopes that gift will make a lasting impact on the lives of Chicago's youth.
"I would not be where I am today if people didn't give to me first," Cofield said. "I literally never thought it would be possible to do what I'm doing. The time and mentorship is invaluable. I also think the quicker you dissociate money with success, the better off you'll be. Money will not be the number one factor in my life."
The gift was a blessing for Robbins, who knows how difficult it can be to run a nonprofit. She's thankful for the University of Illinois network and the connection with entrepreneurs like Cofield who help support each other.
"For me, it's been cool to see the power of the U of I network," said Robbins. "Being in Chicago, there's such a strong network of Illinois alumni. Most anytime I meet anyone from U of I, it's a great level of support. They are happy to provide whatever help and resources they can."
Cofield, meanwhile, wouldn't be where he is today without the support from the University of Illinois and Gies College of Business. Gies is where he got his first taste of entrepreneurship, something he never thought possible growing up on the south side of Chicago.
"The experience at Gies mirrors the real world," he said. "They let us out in the wild, and looking back, it was a tremendous blessing and jump start into the business world. By the time I started my business, I was used to working hard, setting my own schedule, and meeting deadlines. Honestly, if it wasn't for the U of I, I would've never gotten to this point."
Thanks to a ton of hard work from Robbins and her staff along with support from entrepreneurs like Cofield, things are already starting to come full circle for The Gray Matter Experience. The nonprofit now has five fully incorporated, teen-run businesses in its portfolio, two of which are revenue positive. The program started just four years ago, and Robbins says four students who completed Gray Matter are now enrolled at the U of I.
"We'd love to create a pipeline for students to go to the U of I," Robbins said. "We're able to have success, in part, because of help from fellow alumni like Carter. He's been a huge resource for providing tips and support, making sure participants have sound business models, and just being a resource for our students."
For more information about The Gray Matter Experience, visit graymatterexperience.com, or follow them on social media at @graymatterexp.