May 22, 2020 2020-05 Business Administration Faculty Research in Education
How culture influences what people buy
Do you buy a brand to fit in or stand out? That likely relates to where you live, says a recently published article from Gies College of Business at the University of Illinois at Urbana-Champaign.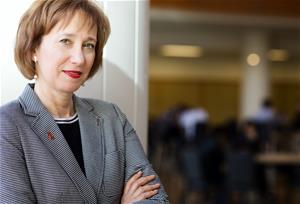 Cultural differences influence what shoppers purchase and why, according to Sharon Shavitt, Walter H. Stellner Professor of Marketing at Gies. She and Aaron J. Barnes, a Gies PhD student in Business Administration, recently published "Culture and the Consumer Journey" in the Journal of Retailing. It synthesizes a wide array of shopping and culture-related research and connects the dots to identify implications for retailing's future.
"I was shopping in Bangkok and the brick-and-mortar stores were nearly the same as what I see walking down Michigan Avenue in Chicago. You'd be inclined to take away that the cultures are melding together. They're not," said Shavitt.
Shavitt and Barnes's cross-cultural research looks at the connection between a consumer's country of origin and their buying behaviors. People from non-Western collectivistic cultures tend to consider the needs of others when deciding what to buy. They are likely to gravitate toward popular colors and incremental changes in product features.
Conversely, shoppers in North American and Western European individualistic cultures value products and brands that celebrate independence and self-expression. Americans will ask themselves, "Do I love it?" They don't worry about whether their purchase will ruffle the feathers of friends or family.
Shavitt and Barnes's survey of research helps to explain how different shopper values and goals contributed to why eBay failed in China. Shavitt said that the online marketplace didn't consider how collectivistic consumers connect with one another to validate a purchase decision.
"Chinese consumers want a high level of person-to-person interaction when deciding to buy online, and eBay didn't have a mechanism for building trust. Alibaba's Taobao, on the other hand, created a direct line between buyer and seller through instant messaging," said Shavitt. Taobao shoppers may spend 45 minutes chatting before they make an exchange on what has become China's largest shopping website.
Cultural differences like these may have an impact at nearly every consumer journey touchpoint, from website content to pricing and displays, Barnes notes. Corporate websites would be wise to gear customer interaction differently by culture. Collectivistic consumers tend to look for a brand to help them connect to a community. Shoppers in Western cultures likely want to talk to the company, not a fellow customer, to ask questions about a product. They may use message boards to express themselves and create a persona, not make a friend.
Price also tends to impact shoppers differently. Shavitt and Barnes's review of research shows that private label products don't likely impress collectivistic consumers; name brands reinforce status and may help to reassure the purchase is a wise one. But that doesn't mean these consumers don't appreciate value. Research shows they're better at using coupons and will self-regulate to wait until they can afford a brand name.
In-store, cultural differences also influence the impact of display choices. Collectivistic consumers are probably less likely to buy a coffee maker if it's positioned on a cheap metal shelf at a big box store. Individualists, on the other hand, separate an item from its surroundings and look for what makes it unique – whether that's price, quality, convenience, or selection.
With all these differences, why do we see big brands from Spain (Zara) and Japan (UNIQLO) successfully opening brick-and mortar stores far from home? It's likely because Zara's fast fashion makes creating a personal sense of style affordable while UNIQLO's classic designs fit easily into an individualist's wardrobe.
Barnes said Lululemon is a global brand to watch in 2020. The leisurewear retailer intends to grow exponentially in China this year. China Daily reports the company has created a decentralized model that gives local teams the power to tailor store formats work with local partners. It's also tailoring the clothing's cut, material, and design.
Lululemon may also want to make their logo bigger for Asian markets. Shavitt said Burberry's launch in China was very successful because its look and band logo are so clear. Ralph Lauren is also known to make its Polo icon larger on some clothing sold in these markets. She said luxury brands like these will likely always remain strong in a collectivistic society. But once a luxury brand goes mass market in a Western culture, she warns, research shows that this can interfere with an individualist's need to be unique.
Shavitt and Barnes' research also explored how brand architecture differs by culture. If Coca-Cola wants to start a line of movie snacks, for example, should it brand the products as Coke or something else?
"Would an American try Coke Popcorn? Probably not," said Shavitt. "They would assume that the popcorn would taste like Coke, which isn't appetizing. But collectivistic shoppers, who tend to think holistically, are more likely to look for the symbolic brand connection between the products. Holistic consumers would assume a brand with high equity and a strong persona would make something worth buying."