May 7, 2020 2020-05 Business Administration Dates Student
Thompson uses online MBA experience to respond to pandemic on two fronts
Friends and family questioned why a 50-year-old successful business owner would go back to school to get an online MBA.
"I wasn't looking for a promotion and I wasn't going to fire myself, but today if you don't get a graduate degree you're at a disadvantage. I did not want to miss out on an opportunity to grow," said Jason Thompson, who runs American Property Experts, one of North Carolina's largest recycling companies. "A lot of people at this age think it is too late to get an advanced degree because they are too established in their careers. But there's so much value in this next step in education."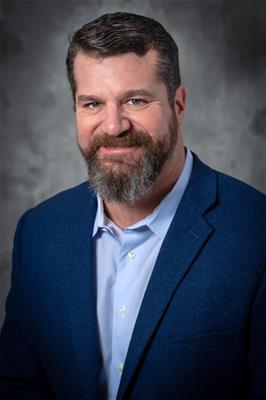 Today, Thompson finds himself contributing to the pandemic response on two fronts: His company supplies biofuel to paper mills – now deemed essential – because they are making a fiber product used in personal protective gear (PPE). He is also Chair of the Board of Trustees for New Hanover Regional Medical Center (NHRMC), one of the largest hospital groups in the state with 7,000 employees and $1.5 billion in revenues.
"NHRMC is the economic engine of our community as its largest employer. If you mess that up, you mess a lot of things up. I bring a business lens to creating quality healthcare that's financially viable and doesn't overburden the taxpayer," said Thompson, who is expected to graduate in 2021 with an MBA from Gies College of Business.
He says the hospital board looks to him to be a critical thinker who can look at quantitative and qualitative information and better understand what they are looking to accomplish.
"Now I understand things on a deeper level. Today at a finance committee meeting I was cranking out reports about proportions and standard deviations. My professors taught me to always ask, 'But what does this data mean?'" said Thompson.
American Property Experts, with 24 employees and $5.5 million in revenues, is also considered an essential service. Since the pandemic began, the company increased production by 30% year-over-year in March. His staff is working 55-hour weeks to keep up with the demand.
Thompson started the company from scratch as a tree-trimming service, and it has evolved into a firm that serves landscapers, contractors, and municipalities. It creates recycled mulches, topsoil, and biofuel for companies by clearing trees and brush from land and construction sites. It also plays an essential role after a hurricane hits the region.
The tipping point was figuring out how to take the debris he was putting in a landfill and converting it into biofuel and recyclable materials.
"Twenty-three years ago, people thought I was crazy. I was green before 'going green' was cool," said Thompson. He credits his ability to grow his business to his education at The Citadel and training as a Marine for eight years. "It taught me how to lead, organize projects, and be a logistics master. Customers always comment on how our operations are orderly, neat – and beautiful."
Thompson originally gravitated to an online MBA program because he couldn't stop running his business and sit in a traditional brick-and-mortar classroom. He applied to four schools; he liked the admissions process at Gies College of Business and was drawn to its reputation.
"Now, I'm rocking a 3.85 GPA," he said.
Thompson also appreciates Gies' online MBA format that can take something he thought would be very boring – like statistics for management – and turn it into something interesting and helpful to his business.
"I was used to understanding and reading reports, but I'm paying accountants, and my CFO and operations managers to bring me data in the final form. Now I understand the underlying concepts. I'm sending them spreadsheets about things I learned in process management or statistics," he said.
Thompson added that the breadth of experience in his cohort is "phenomenal."
"I like the banter and the way we work together on a substantive deliverable," said Thompson. "There are grand-dads older than me plus Millennials and GenXers who bring all kinds of different perspectives. Without the global platform, I would never be able to speak on such an intimate level to other business leaders in India, Germany, and Brazil."
Halfway through the program, Thompson said one of the biggest things he's learned is not to underestimate the soft skills of leadership.
"As a Marine, I was trained to be very direct. With the iMBA you learn there's something to be said for not taking a hard-line approach on every issue and opportunity," he said.