Apr 27, 2020 2020-04 Alumni Business Administration
Petersen, Chonowski build career accelerator for top professionals
For many young professionals, one major benefit to earning an MBA is expanding their network. Two Gies College of Business MBA graduates couldn't agree more; in fact, they've used it to become very successful networking entrepreneurs.
Chris Petersen (MBA '09) and Dave Chonowski (MBA '09) are the co-founders of a new company called Futurexecs, best described as a career accelerator for America's top professionals. The startup's goal is to help ambitious business leaders who feel like they're stuck in "career purgatory" advance to higher levels more quickly. Its inaugural cohort, comprised of seasoned brand marketers, is scheduled to launch in Chicago on October 3 and a second one, for finance leaders, will begin two weeks later.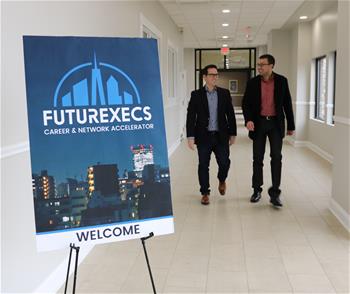 "We modeled Futurexecs after startup accelerators," said Petersen. "Many startup founders have a goal of an initial public offering (IPO) or acquisition; they just don't know how to achieve it. The successful and savvy ones join accelerators to enhance their networks, broaden their exposure, and explore how to take their firms to the next level. Our concept is similar, except that our focus is helping the country's most ambitious mid-career professionals and rising executives to hack their careers."
It might seem counterintuitive to launch a startup that partially relies on face-to-face networking in the midst of a pandemic, but Chonowski sees it as an opportunity. "Like any business that's been impacted by coronavirus, we've had to pivot a bit, but this too will pass – and when it does, we'll be even more well positioned for growth. What we're doing is absolutely needed and that hasn't changed. In fact, I've been talking to even more prospective customers now than before we all started to hunker down. Fortunately, Chris and I have the shared experience of having launched our first venture during the last recession, so we're taking it all in stride."
Petersen and Chonowski's partnership hatched during their first year at Gies College of Business in 2007. Both had spent time as officers in the U.S. Army and had recently enrolled in the full-time MBA program. After a chaotic year working in former Illinois Governor Rod Blagojevich's administration, Petersen felt a pull toward the private sector, and business school seemed like the right place to start. Chonowski, who held an undergraduate degree in mechanical engineering, always knew he wanted a graduate degree and loved how broadly applicable an MBA could be. So, he enrolled in the joint degree program, earning an MBA and master's in mechanical engineering simultaneously.
"My time at Gies gave me a chance to explore," Chonowski said. "Coming out of the military, I wasn't really aware of the career opportunities out there. Going through the coursework gave me key exposure to different disciplines, and when we started our business, it was helpful for both me and Chris to go through the coursework at the same time."
That time happened to be during the Great Recession from 2007-2009. Jobs were scarce. Recruiters were postponing trips to campus. Petersen, who worked in the College's career services office at the time, noticed that corporations were still investing in diversity hiring. Hiring managers were attending the National Black MBA and Forté Women's MBA conferences, but there was nothing in that space for military veterans.
"We knew that the Obama Administration was pressuring the private sector to hire more military vets," Petersen recalled. "So, we decided to layer the veteran aspect on top of the MBA and create a simple career conference with veterans from the top business schools. The Dean gave us a couple thousand dollars to help fund our first event in 2008, and it took off from there."
While the Veteran MBA Conference started as a small, student-led initiative, holding half-day events for around 50 attendees and eight employers, it grew to a large, multi-day trade show bringing in more than 1,000 people and top sponsors like Google, Accenture, and Johnson & Johnson. Eventually, it expanded into a four-brand portfolio and an event management and recruiting software platform. Shortly after launching the firm, Petersen went on to work in marketing at Procter & Gamble, and Chonowski worked in health science at Boston Scientific. The two continued to operate the business until 2018, when it was acquired by one of the country's top executive search firms and military conference organizers.
That's when the creative juices started flowing again, and the two planted the seeds for Futurexecs. Now, they meet weekly at a Jeffersonville, Ohio, truck stop halfway between their homes in Columbus and Cincinnati to bring their new company to life – a mission that started more than a decade ago at the University of Illinois.
"At Illinois we saw that there was a gap in the student career space, and now that we're in the mid-career stage of life, we see problems with that as well. Given that we're starting another venture in the middle of a recession, it feels like déjà vu," Petersen said. "The good news is that with Futurexecs, there is an opportunity for every stakeholder in the career ecosystem to benefit. Professionals, of course, get exposed to eye-opening career content while building a better network; savvy employers get access to new talent and a branding channel; service providers finally get to be part of the conversation; and senior executives can give back by sharing their own career journeys and inspiring the next generation of their industry's top leaders."
Petersen and Chonowski give a great deal of credit to their time at Gies and to the Illinois alumni and professors who have helped them along the way. They regularly reach out to alumni during their market research and customer discovery process, and they say Illinois graduates are always willing to help.
"Without the Gies MBA, I never would have started my first company, and I certainly never would have started a second one," said Petersen. "There's so much that we couldn't have accomplished without our time at Illinois. With this new venture, we really want to help fellow Illini move on to the next stage of success and happiness in their careers, especially at times like these when the world seems turned upside down."